Mike Harris (Emeritus Fellow at Centre for Ecology and Hydrology and Honorary Professor at Glasgow University) received the Pacific Seabird Group's (PSG) Lifetime Achievement Award at their annual conference in Asilomar, California earlier this month.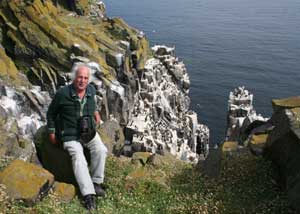 The award is normally given in recognition of a major contribution in the field of research on Pacific species. Mike was a founder member of PSG in the 1970s and his extensive research on the population and feeding ecology of Atlantic populations of puffins, guillemots, kittiwakes and shags, mainly at CEH's long term field site on the Isle of May, has provided an important benchmark for many of the studies initiated in the Pacific.
Now retired, Mike is still promoting links between the two ocean systems and is currently involved in a project combining two 25-year studies of breeding phenology of individually marked common guillemots, to investigate how individuals respond to climatic variation in the contrasting conditions of the Atlantic and Pacific.
Links
Our Isle of May seabird research site
Pacific Seabird Group (external)