The work of butterfly scientist Professor Jeremy Thomas, carried out at the Centre for Ecology & Hydrology's former research site in Dorset, is featured in David Attenborough's new 5 part series "Life in the Undergrowth". The series begins on BBC1 at 9pm tonight (Wednesday 23rd November).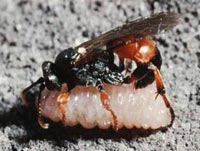 Programme 3 and 4, to be broadcast on the 7th and 14th December, feature interviews with Professor Thomas and footage of the Large Blue butterfly, their host ants and the parasitic wasps that lay their eggs in the bodies of Large Blue caterpillars.
Ichneumon Eumerus (Parasitic Wasp) stinging Maculinea Rebeli (Large Blue larvae) - Picture by Jeremy ThomasThe series uses advanced camera and sound techniques giving scientists remarkable new insights into insect behaviour.
"Life in the Undergrowth" is broadcast every Wednesday for the next five weeks at 9pm on BBC1.
You can read more about this fascinating story in the current issue (November) of BBC Wildlife magazine.
Links
BBC Online - BBC listens in to insect chatter