'A' level student Georgia Connolly of St Mary's School, Shaftesbury, has won a prestigious science competition after spending last summer working on a Nuffield bursary project on chemical extraction, at the Centre for Ecology & Hydrology's research site at Winfrith in Dorset.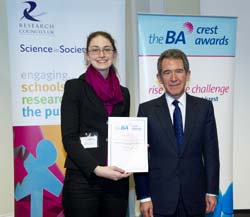 The project was awarded the prize for the best Gold Science Project at the British Association's CREST Science Fair, a prestigious ceremony at the Royal Society in London, which took place last month. Georgia's prize includes £1500 for her school and also the Adele Gurney Prize - to attend the Stockholm International Youth Science seminar in December 2007.
Georgia was able to show for the first time that PEITC, the chemical which gives watercress its distinct peppery taste, and which has been identified as a potential anti-cancer agent, exists in river water below watercress farms. Her findings will help the watercress industry improve biodiversity in adjacent river habitats, building on previous work at Winfrith which showed that PEITC has a negative impact on freshwater insects.
The award-winning project was overseen by environmental chemist Andrew Worgan. Andrew said: "We are all very proud of the hard work and dedication that Georgia showed to her research. Georgia took ownership of the project and showed a commitment and ability normally only seen in our best post graduate university students".
Judith Wardlaw, student co-ordinator for the Centre for Ecology & Hydrology said "Georgia's achievement represents the culmination of a decade of work here within the Nuffield scheme in Dorset. In that time we have worked with students from many schools on over 50 different science projects. Hopefully many of those will be inspired by the opportunities we've provided and will go on to become the scientific researchers of the future."
Links

Related news items