Ecologists are getting ready to celebrate the 150th anniversary of the world's oldest ecological experiment. The Park Grass Experiment was set up at Rothamsted Research in Hertfordshire in 1856 - three years before Darwin published Origin of Species - to answer crucial agricultural questions of the day but has since proved an invaluable resource for studying natural selection and biodiversity.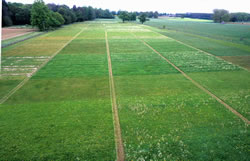 Park Grass field plots The Park Grass experiment at Rothamsted. Copyright: Rothamsted Research
To mark the occasion, a major review of Park Grass was published this month in the British Ecological Society's Journal of Ecology.
Dr Matt Heard who works for the Centre for Ecology & Hydrology at our Monks Wood research site contributed to the Park Grass review. Matt commented "Park Grass is a fantastic and uniquely old ecological experiment that has grown in value over it's 150 years. It has allowed a wide range of important scientific questions to be investigated and inspired new ecological theory."
Additional Information
Park Grass Anniversary review paper Jonathan Silvertown et al (2006). The Park Grass Experiment 1856-2006: its contribution to ecology. Journal of Ecology, doi: 10.1111/j.1365-2745.2006.01145.x.
Copies of the paper are available from Becky Allen, Press Officer, British Ecological Society.