Leaking ammonia from fertilisers and higher ammonia emissions caused by a warmer climate are among the issues highlighted in a new volume of scientific papers published this week which provide a summary of current understanding of the global nitrogen cycle and likely changes through the 21st century. Professor David Fowler and Professor Mark Sutton of the Centre for Ecology & Hydrology are among the scientific editors of the volume, which is published as a themed issue of the journal Philosophical Transactions of the Royal Society B.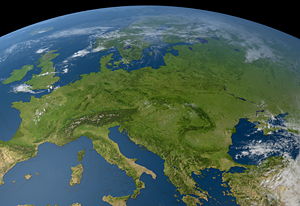 As well as Professors Fowler and Sutton, a large number of CEH researchers, mainly based at Edinburgh, were involved in producing some of the 14 papers in the volume, which originated from a discussion meeting at the Royal Society in December 2011.
The research shows that ammonia from manure and fertilisers is leaking into the atmosphere, causing eutrophication of ecosystems and leading to loss of biodiversity. Ammonia also contributes to particulate matter, reducing air quality which can cause health problems including heart diseases.
Research led by CEH's Prof Sutton explores the problem of nitrogen pollution when linked with climate change. "The warmer climate that we are expecting will lead to higher ammonia emissions. This will lead to more environmental problems caused by ammonia," he explained.
Prof Sutton added, "Very little is being done to clean up ammonia emissions. The current target in Europe represents a 2% reduction between 2010 and 2020, compared to a 30% reduction for sulphur dioxide.
"The urgent need for action is exacerbated by the effect that climate change will have on ammonia emissions. Implementing available techniques could reduce ammonia emissions by 50% across Europe to reach more sustainable levels," he said.
Another of the papers, led by Professor Jan Willem Erisman of the Netherlands-based Louis Bolk Institute, explains how thresholds for human and ecosystem health have been exceeded as a result of nitrogen pollution, of which ammonia forms an important part, including those for drinking water, air quality, biodiversity loss and climate change. "Our growing food consumption and changes into meat-rich diets will further exceed the planetary boundary for nitrogen, which is already exceeded by a factor of four." Prof Erisman said.
As well as a global overview describing the main flows of nitrogen in the atmosphere, on land and in the oceans, other papers in the volume are devoted to component parts of the Earth, for example, organic nitrogen cycling in the atmosphere or focused on specific processes, including the release of ammonia to the atmosphere form crops and soil, and the coupling between terrestrial nitrogen and carbon cycles.
The focus of research carried out by CEH staff based at Edinburgh is on the science underpinning air pollution, climate change and the conservation and sustainable use of biodiversity and natural resources.
Additional Information
The Royal Society issued a press release for this story.
Full reference: Philosophical Transactions of the Royal Society B, The Global nitrogen cycle in the 21st century, edited by David Fowler, John A Pyle, John A Raven and Mark A Sutton.
Audio recordings from the discussion meeting are available
Professor Mark Sutton was lead author of the recent UNEP report, Our Nutrient World
You can follow the latest developments in CEH research via Twitter and our RSS news feed