The Centre for Ecology & Hydrology (CEH) and the James Hutton Institute will work more closely to add value to their current research activity, increase collective competitiveness and enhance opportunities for income generation. The two leading research organisations already have close research links and have collaborated over many years and the signing of a Statement of Intent is designed to create a shared strategic vision and formalise their partnership.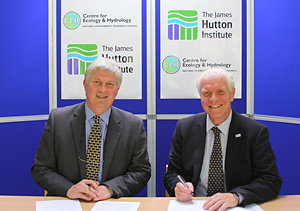 Previous research conducted by the Centre for Ecology & Hydrology and the James Hutton Institute has been on issues such as water pollution and management, soils and biodiversity. The new agreement will see them working more closely to increase collaboration, share data and knowledge, and develop joint funding initiatives as well as increased staff interaction through joint research programmes, seminars and workshops.
Professor Alan Jenkins, Deputy Director CEH, said, " The James Hutton Institute offers complementary skills to the Centre for Ecology & Hydrology. We look forward to working closely with them to increase the impact of our integrated environmental science. We will focus on UK and global issues, particularly our recently announced engagements in China."
The James Hutton Institute's Director of Research Impact Professor Bob Ferrier said, "The complementary skills and excellence in depth provided by this collaboration strengthens the UK's world lead in environmental science".
Related links
UK research institutes build links with China - 1 March 2013
You can follow the latest developments in CEH research via Twitter and our RSS news feed.