The UK Butterfly Monitoring Scheme (UKBMS) will be launched by new Biodiversity minister, Barry Gardiner MP, at the Royal Society in London on the 15th May.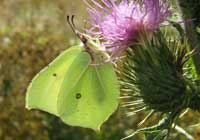 The UKBMS is a recently formed scheme merging the long-running Butterfly Monitoring Scheme with other survey work carried out by the charity Butterfly Conservation.
Alongside the launch of the UKBMS project, a new book will be published detailing the current State of Butterflies in Britain and Ireland. This landmark publication provides the first assessment of the changing status of butterflies in the 21st Century, updating the Millennium Atlas of Butterflies of Britain and Ireland.
Dr David Roy who helps co-ordinate the UK Butterfly Monitoring Scheme and is one of the authors of the new book, will be speaking at the launch on the effects of climate change on butterflies. Dr Roy is based at the Centre for Ecology & Hydrology (CEH) site in Monks Wood.
Dr Roy commented "Butterflies are sensitive to environmental change. Several species are occurring further north, increasing in number, and appearing earlier each year. The UKBMS is one of the most important datasets for assessing future impacts, not all of which are predicted to be favourable".
The Centre for Ecology & Hydrology through our Biological Records Centre collates Britain's butterfly records and will run the new UK Butterfly Monitoring Scheme in collaboration with Butterfly Conservation. The records are collected by volunteers around the country.
Additional Information
The UK Butterfly Monitoring Scheme
CEH's Biological Records Centre