Working with partners across the public sector, the Centre for Ecology & Hydrology (CEH) has recently launched an integrated national Peak River Flow Data service to improve flood estimation.
In April 2014, responsibility for the provision of UK national flood peak data was transferred from the previous HiFlows-UK initiative hosted by the Environment Agency to the National River Flow Archive (NRFA). The NRFA is maintained by CEH working in partnership with the UK's hydrometric measuring authorities. Provision of flood peak data is being fully integrated with the NRFA's existing services for daily and monthly mean flow data.
The collation of national peak flow data began with the release of the Flood Studies Report (FSR) in 1975 by the Institute of Hydrology (which subsequently became part of the Centre for Ecology & Hydrology). Further data updates to the FSR took place in the 1970s and 1990s, culminating with the release of the Flood Estimation Handbook in 1999. Between 2004 and 2014 updated UK flood peak data were provided via the HiFlows-UK initiative, a partnership between the UK's hydrometric measuring authorities, and the data were hosted on the Environment Agency's previous website. The new NRFA peak flow data service replaces HiFlows-UK.
Jamie Hannaford from the Centre for Ecology & Hydrology and Head of the UK National River Flow Archive said, "The transfer of the UK's peak flow data service to the National River Flow Archive will provide users with an enhanced service, allowing integrated access to a wider range of river flow data, including daily flow time series, peak flood levels and catchment information from one single national portal".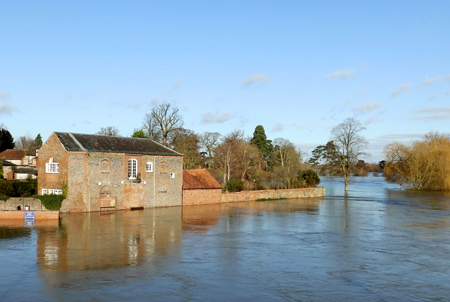 As is the case with other NRFA data, the river flow data provided through this service originates from gauging stations operated by a range of UK organisations – including the extensive networks operated by the Environment Agency in England, Natural Resources Wales, the Scottish Environment Protection Agency and the Rivers Agency in Northern Ireland. The new service is the result of an ongoing partnership between these organisations and CEH to deliver integrated national hydrometric data.
Gwyn Rees, the Director of Environmental Informatics at the Centre for Ecology & Hydrology, said, "The data services launched by the National River Flow Archive this month bring together environmental monitoring and information management expertise from across the public sector to support a key national capability in flood estimation. Such work is central to our vision to provide high quality, accessible environmental information services to support scientific, commercial and societal objectives."
More information can be found in this briefing note.
EPNF Exec summary April 24 2014.pdf
Additional information
The new data service can be accessed via the NRFA website
CEH's Natural Hazards Science Area