Over the last 20 years lakes and streams in remote parts of the UK, southern Scandinavia and eastern North America have been increasingly stained brown by dissolved organic matter. In this week's Nature journal (22 November) an international team of researchers demonstrates that the colour change is indicative of a return to a more natural, pre-industrial state following a decline in the level of acid rain. The scientific team was led by researchers from UCL (University College London) and the US Environmental Protection Agency (EPA) and included Dr Chris Evans, who is based at the Centre for Ecology & Hydrology's research site in Bangor, North Wales.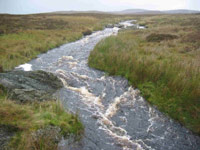 Lead author Don Monteith, Senior Research Fellow at the UCL Environmental Change Research Centre, said: "A huge amount of carbon is stored in the form of organic deposits in soils, and particularly in the peatlands that surround many of our remote surface waters. In the past two decades an increasing amount of this carbon has been dissolving into our rivers and lakes, turning the water brown."
By analysing water chemistry records from over 500 sites across the northern hemisphere the research team found that the dominant factor in the whole process has been the major reduction in acid rain since the 1970s. As acidity and pollutant concentrations in the soil fall, carbon becomes more soluble, which means more of it moves into our lakes and rivers and more can be exported to the oceans.
Dr Evans commented: "In some ways we're seeing waters returning to their natural, pre-industrial state but this suggestion may be of little consolation to water supply companies as they are faced with the increasingly difficult - and expensive – task of removing the colour from drinking water using treatment facilities that were designed to deal with the lower concentrations experienced in previous years."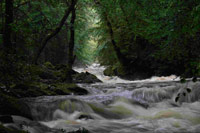 Data for this study was drawn from nationally funded monitoring programs in the UK, USA, Canada, Norway, Sweden and Finland. Trends in dissolved organic carbon, air temperatures and a suite of other chemical variables were assessed using data from 1990-2004.
Press coverage
Daily Telegraph 21st November 2007 - "Rivers turning brown - back to natural state"
Additional Information
The research results were published in the following scientific paper:
Monteith D.T., Stoddard J.L., Evans C.D., de Wit H., Forsius M., Høgåsen T., Wilander A., Skjelkvåle B.L.,, Jeffries D.S. , Vuorenmaa J., Keller B., Kopácek J. and Vesely J. (2007). Rising freshwater dissolved organic carbon driven by changes in atmospheric deposition. Nature, 450, 537-540.
Nature Journal (subscription required)
Media enquiries about this work should be directed to the Centre for Ecology & Hydrology Press office.