A series of 10 scientific papers highlighting long-term water quality and ecology research carried out at Loch Leven in Scotland has been published online in the journal Hydrobiologia.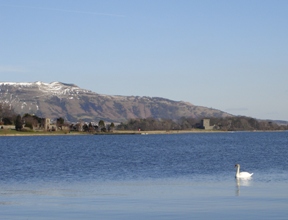 The special issue Loch Leven: 40 years of scientific research is guest edited by Drs Linda May and Bryan Spears of the Centre for Ecology & Hydrology (CEH) and collates scientific findings presented at a special symposium of lake researchers.
Loch Leven is one of CEH's most important long-term monitoring sites and the research conducted at the site is significant not only for the health of the loch itself, which supplies a wide range of ecosystem services, but contributes to lake and catchment management strategies at other sites around the world.
Dr Linda May of CEH has led the monitoring programme at Loch Leven for over 15 years. She said, "This special issue of Hydrobiologia is a testament to the many people and organisations over the years who have worked at this hugely important site. The work carried out has focused on integrating science, policy and management, and lessons learnt from long-term research at Loch Leven are helping managers improve water quality in shallow lakes across the world."
Ecology and water chemistry monitoring has been undertaken at the loch every other week since 1968 along with studies of aquatic plants, fish and birds. Macrophyte (aquatic plant) data is collected every three years and estimates of the biomass and species composition of fish are undertaken seasonally. Data on daily trout catches have been collected by the Loch Leven fishery since 1870 and Scottish Natural Heritage have collected monthly data on bird populations since 1967.
The new papers in Hydrobiologia involve scientists from many different organisations. Among the new papers are interpretations of historical changes in phosphorus loads at Loch Leven, changes in its fish community, plant diversity in the context of recovery from eutrophication, an examination of long-term trends in invertebrate communities, an historical look at attempts to manage ecosystem services at the site, and long-term variations in waterfowl populations (Loch Leven is designated a Special Protection Area, a Site of Special Scientific Interest and a UK Ramsar site because of the importance of its waterfowl populations).
Also included in the special issue is a tribute to Dr Tony Bailey-Watts, whose long-term limnological research at Loch Leven has been of huge importance for scientists.
All of the papers are currently available online and will also be published in a forthcoming special print edition of the journal.
Additional information
CEH's Water Science Programme
CEH's Press Office issued this story as a Media Briefing.
Hydrobiologia journal (link to one paper 'A history of scientific research at Loch Leven' paper, and related documents including other Loch Leven outputs)
Loch Leven: A case study of global importance - Further information
Scottish Loch Restoration Case Studies
You can follow the latest developments in CEH research via Twitter and our RSS news feed.