Representatives of the UK Ladybird Survey, including Dr Helen Roy from the Centre for Ecology & Hydrology, are among a prestigious few chosen to represent the British scientific community at the Moscow Festival of Science this weekend (8-10 October).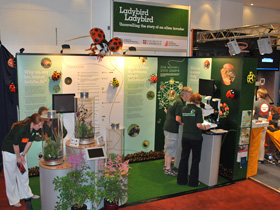 Four members of the Ladybird team will travel to Russia to exhibit a stand highlighting research into the non-native harlequin ladybird. The exhibit was first shown to wide acclaim at the Royal Society Summer Exhibition in 2009.
The harlequin is the fastest spreading invasive species in Europe and it is predicted that around 1000 British native species, including aphids and other ladybirds, may be negatively affected following its arrival in the UK in 2004. More than 30,000 records sent in by the public to the Ladybird Survey have helped researchers track and assess the impact of this alien non-native insect.
This is the fifth Moscow Festival of Science and is set to attract more than 30,000 visitors to the main Expocenter. Dozens of universities and other organisations are also holding events. The British Embassy in Moscow is supporting the UK participants, with two British pavilions at the Expocenter chosen to represent the British scientific community. As well as the Ladybird Survey, a team from Oxford and Royal Holloway Universities are joining CERN colleagues to exhibit their research on particle accelerators.
Related CEH links
Invasive harlequin ladybird could threaten more than 1000 native species
Non-native species research at CEH
External links