The public are being asked to alert the Centre for Ecology & Hydrology (CEH) of any sightings of the invasive non-native species of shrimp - Dikerogammarus villosus - commonly known as the 'killer shrimp'. The first reported case of D. villosus in the UK was made by anglers at Grafham Water reservoir in Cambridgeshire on 3 September 2010.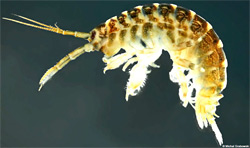 A species alert was issued by the GB Non-Native Species Secretariat (NNSS) under its rapid response protocol after the sighting was confirmed by experts. Scientists are now anxious to discover if the shrimp has spread to other areas in Cambridgeshire and further afield. Details of suspected sightings, including a photograph if possible, should be sent to alert_nonnative@ceh.ac.uk.
The shrimp is known to be a voracious predator of freshwater invertebrates. By killing a range of native species, it significantly alters ecosystems and can end up dominating the habitat it invades. Originally from the Ponto-Caspian region of eastern Europe, it has spread across much of western Europe over the last decade. It can grow up to 30mm long, much larger than native shrimp species. A species profile is available from the GB Non-native Information Portal (currently being developed by CEH in collaboration with the Marine Biological Association, British Trust for Ornithology and NNSS).
CEH plays a key role in several research projects aimed at identifying invasive non-native species and tackling the problems they cause. Invasive non-native species are one of the top five threats to global biodiversity according to the United Nations Convention on Biological Diversity. CEH is involved in monitoring and mapping the distribution of species, determining their habitat requirements, modelling the population dynamics of invasive species, predicting future trends and advising on control strategies.
As well as leading the project to develop the GB Non-Native Species Information Portal, CEH manages DAISIE, Delivering Alien Invasive Species Inventories for Europe, a portal for information on biological invasions in Europe. CEH is also a coordinator of both the Recording Invasive Species Counts, which was launched earlier this year and aims to gather information on the spread of particular species, and the Harlequin Ladybird Survey, which has enabled scientists to track an invasion and predict the impact of a particular species.
Scientists in CEH's Aquatic Plant Management group also study native and non-native aquatic weeds that have escaped into the wild to cause significant economic and environmental damage.
Dr Helen Roy, an ecologist at the Centre for Ecology & Hydrology and project leader of the GB Non-Native Species Information Portal, said "Invasive non-native species pose a considerable threat to biodiversity. The arrival of Dikerogammarus villosus is a worrying development and demonstrates why the information and alert systems we are developing with the Non-Native Species Secretariat are critical for rapidly responding to these emerging threats."
Related CEH links
CEH's research into Invasive and Non-Native Species
Scientists call on the public to help monitor invasive species - 22 March 2010
Invasive harlequin ladybird could threaten over 1000 native species - 30 June 2009
External links
GB Non-native Species Information Portal
'Killer shrimp' species alert and profile
Recording Invasive Species Counts
Delivering Alien Invasive Species Inventories for Europe (DAISIE)