Despite a lot of fine, dry weather in some areas, it was the wettest June on record for Scotland and the sixth wettest June for the UK as a whole (both in series from 1910). Soil moisture deficits decreased across the UK with the exception of south-east England. River flows were predominantly below normal in southern England but above normal to exceptionally high in northern and western Britain. Some catchments registered almost half the June average but others more than twice the average.
The assessment is contained in the latest monthly hydrological summary for the UK, the most authoritative analysis of water resources status in the country. The monthly summaries are produced by the National Hydrological Monitoring Programme, operated by the Centre for Ecology & Hydrology in conjunction with the British Geological Survey.
Groundwater levels in south-east England remained below normal and are likely to do so for the remainder of the summer except in the most extreme of rainfall scenarios. Consequently there is a continued possibility of localised water pressures and ecological stress in south-east England. A PDF of the full 12-page June 2017 summary can be downloaded here.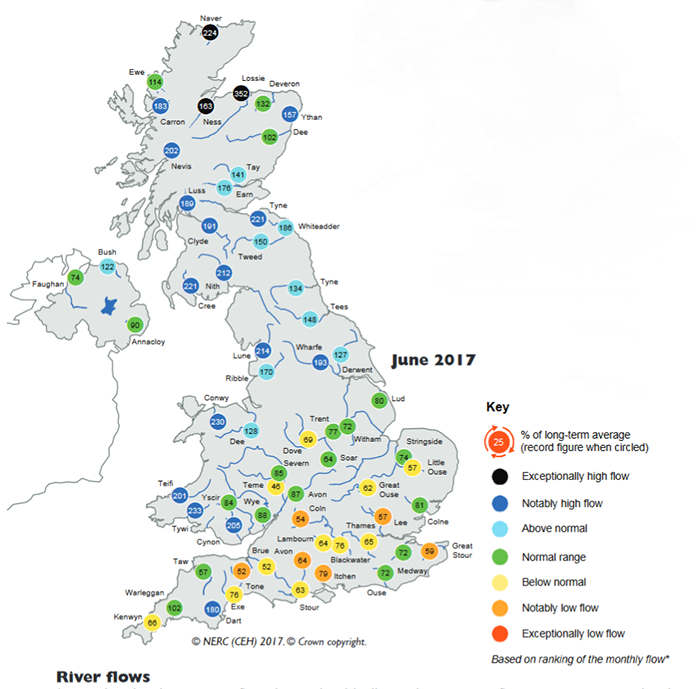 The monthly summary is a look back at hydrological events occurring in June 2017. Latest information on flood warnings is provided by the Environment Agency, Natural Resources Wales and Scottish Environment Protection Agency (flood warnings for Northern Ireland are not available).
The Centre for Ecology & Hydrology jointly operates the National Hydrological Monitoring Programme (for the UK) in conjunction with the British Geological Survey. NHMP scientists produce the UK Monthly Hydrological Summary which assesses rainfall, river flows, groundwater and reservoir levels. They also operate the UK's National River Flow Archive.
The NHMP also has a remit to analyse major flood and drought events in the UK and analyse long-term trends in UK hydrological data. The UK Monthly Hydrological Summary is normally published on, or before, the tenth working day, of the following month. A Hydrological Outlook for the UK is also available, and is updated monthly. The latest Outlook can be viewed here.
Additional information
Read the full June 2017 Hydrological Summary for the UK
Details of the National Hydrological Monitoring Programme
Latest Hydrological Outlook for the UK