For some months the Centre for Ecology & Hydrology (CEH) has been working with a number of partners to explore the possibility of developing a long-range hydrological forecast for the UK. Forecasts of this type are already produced on an operational basis in a number of countries including the USA and Australia.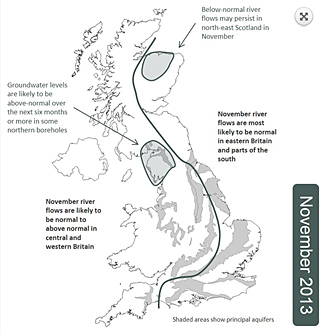 The project has involved bringing together information on the current weather, soil moisture, river flows and groundwater levels across the UK, and using a number of methods of exploring possible future hydrological conditions, for example, using numerical models of river flows and groundwater models driven by long-range weather outlooks. These activities have inspired other modelling approaches, and prompted new lines of scientific research.
All of these strands of activity are now being used to produce a Hydrological Outlook, updated each month, which focuses on the next three months but also looks further into the future. The outlook is available on the Hydrological Outlook UK website. In addition to a high level summary document and methodological descriptions, a number of supporting information sheets are available to those who complete a simple registration process.
Visitors to the website can also provide feedback to the project team who intend to evolve and develop the outlook in response to comments from users and by incorporating the latest methodological and scientific developments.
The partnership delivering the Hydrological Outlook UK is led by the Centre for Ecology & Hydrology (CEH) and includes the British Geological Survey (BGS), the Environment Agency, the Met Office, the Scottish Environment Protection Agency, Natural Resources Wales, and the Rivers Agency Northern Ireland. CEH and BGS are both NERC (Natural Environment Research Council) research centres.
Additional information
More information on the Hydrological Outlook
National Hydrological Monitoring Programme
You can follow the latest developments in CEH research via Twitter and our RSS news feed.