The work of butterfly scientist Professor Jeremy Thomas, carried out at the Centre for Ecology & Hydrology's former research site in Dorset, was recently featured in David Attenborough's new 5 part series "Life in the Undergrowth".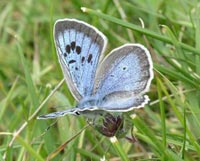 Professor Thomas' work on how the Large Blue Butterfly fools ants into caring for its young was also covered early in 2006 on the Discovery Channel Canada and the clip is now available to watch on the internet.
The Discovery channel story contained the highly magnified footage obtained for the BBC "Life in the Undergrowth series" using advanced camera and sound techniques. Only in the last 2 to 3 years has it been possible to obtain such amazing footage of these creatures behaving naturally.
The innovative film techniques have given scientists remarkable new insights into insect behaviour including how the Butterflys use sound as part of the communication with the ant population.
"Life in the Undergrowth" was broadcast in November and December 2005 on BBC1.
Additional Information (External links)
BBC Online - BBC listens in to insect chatter
Life in the Undergrowth