Senior water managers and decision-makers from India are visiting the UK this week (15th-19th February) as part of a high level exchange initiative to share knowledge on water security and river clean-up.
The initiative has been developed by the UK Water Partnership with funding from a number of UK organisations. It brings together key policymakers, regulators, researchers and water industry specialists from the UK to engage with their Indian counterparts.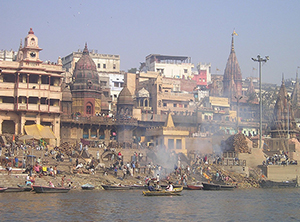 The week-long visit is being managed by the Centre for Ecology & Hydrology. A series of meetings and workshops in London and Wallingford, will provide intensive exposure to the UK water sector and aim to promote direct engagement between UK and Indian water planners and implementers.
The initiative was announced in the Joint Statements between India and the UK following Prime Minister Modi and Prime Minister Cameron's meeting in London in November 2015. It was developed in response to an initial request for co-operation in the Ganga (Ganges) basin clean-up. Prime Minister Modi has made the clean-up of India's rivers a priority for action.
Water management is an area of UK commercial and policy expertise and the River Thames experience is widely cited in India as a model for successful river clean up. A UK mission to India in March 2015 established the need for increased governance and regulation, ongoing science and innovation links and significant UK-India engagement opportunities in the water sector.
The UK has many skills in the water sector covering areas such as research, innovation, supply, regulation and law. Its water planning and protection capability has resulted in significant improvements in water quality and water security. Strengthening India-UK links in this area will bring significant benefits and opportunities for partnership with the UK water sector.
The exchange initiative aims to share water management capability in relation to implementing integrated river basin management planning. Developing water management in India is having impacts in terms of improved public health, improved water supply and sewage treatment. Ultimately, it is hoped that enhanced water security and improvements to the water environment will be achieved.
Additional information
India-UK Water Security Capability Exchange - Final Programme.pdf
The event itself is closed but if you would like to explore the opportunities it may provide for your organisation, please contact the project manager, Dr Harry Dixon, at the Centre for Ecology & Hydrology.
Funding for the visit has been provided by the Foreign & Commonwealth Office, the Scottish Government, the Natural Environment Research Council (NERC) and Costain. Support is provided by a wide range of organisations including: Defra, the James Hutton Institute, HR Wallingford and Pinsent Masons. Further details of all organisations involved and a list of presenters can be found in the programme (pdf).
UK Water Partnership news story
Related CEH links
CEH convened a workshop in December 2015 to look at science needs for the Ganga basin
CEH in UK-India partnership on water security 1 Oct 2014
Helping to restore India's rivers 26 November 2014