The 11th edition of Green Week, the biggest annual conference on European environment policy, takes place in Brussels and around Europe between 24-27 May 2011. This year's theme is "Resource Efficiency - Using less, living better".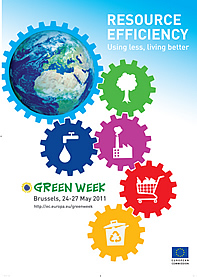 Green Week offers a unique opportunity for debate and exchanges of experience and best practice. Over the past decade, the conference has established itself as an unmissable event for anyone involved with protecting Europe's environment. The 2010 event attracted around 3,400 participants from government, business and industry, non-governmental organisations, academia and the media.
High profile speakers at the four-day event include Janez Potocnik, Commissioner for the Environment, and Connie Hedegaard, Commissioner for Climate Action at the European Commission.
Other speakers at the event, at the Kavli Royal Society International Centre in Newport Pagnell, are due to include Nobel laureate Professor Paul Crutzen and Professor Keith Goulding of Rothamsted Research.
Dr Ragab Ragab of the Centre for Ecology & Hydrology (CEH) was among the speakers at a session on Wednesday 25 May on water management entitled "Every drop counts - tools and tips for better water management". Dr Ragab was recently elected as Vice President of the International Commission on Irrigation and Drainage (ICID). His nomination for the post was endorsed by the 110 member countries of ICID and reflects his 40 years of scientific research on water management and food security issues.
Mr Roger Moore, formerly of CEH and now working for the British Geological Survey, will also be attending Green Week. The €4M OPENMI project, coordinated by Mr Moore and CEH colleagues from 2006 to 2010, will receive an award having been judged as one of the best LIFE-Environment projects that concluded in 2009 or early 2010. The EU Member States represented on the LIFE Committee, together with the LIFE Unit, carried out the award assessment process.
Additional information
More information on Green Week 2011
The LIFE Environment Awards 2010 will be presented by Hervé Martin, Head of the LIFE Environment Unit, on 25 May at 17.45 - 18.45, in the 'Spinelli Building' (A3E.2) of the European Parliament.
You can follow the latest developments in CEH research via Twitter and our RSS news feed.