Registration is now open for a scientific e-Conference on geo-engineering in lakes. The conference, organised by the Centre for Ecology & Hydrology, will take place in March. A number of researchers involved in lake restoration science internationally are confirmed as speakers during the event.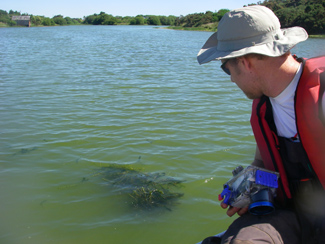 The e-Conference will highlight a number of key issues surrounding the application of geo-engineering techniques to lakes including new research developments, possible unintended consequences and the need for decision support in applying the techniques. The event runs between 10-21 March 2014.
The use of geo-engineering for the control of eutrophication in lakes has increased in recent years. The advent of water quality targets and deadlines in policy, such as the EU Water Framework Directive and the Clean Water Act in the USA, has created a need for phosphorus management methods that can produce rapid results. The application of phosphorus-binding compounds to lake sediments has been widely used, but there remains a lack of scientific consensus on many aspects of its usage.
Conference organiser Dr Bryan Spears, a freshwater ecologist at CEH, said, "To ensure as wide an audience as possible, we have chosen to host this conference virtually, using video and written plenary presentations and open discussions to be chaired by recognised experts in the field.
"We hope to generate discussion and debate among researchers on what is an important issue for water resources and environmental management around the world. I encourage researchers and other interested parties to register for the conference and participate."
The key output of the conference will be a policy brief communicating the views of the research community to industry, regulators and policy-makers.
The e-Conference will be hosted by the Centre for Ecology & Hydrology in collaboration with the Chinese Academy of Sciences, University of Southern Denmark, University of Arkansas and the Centre for Lake Restoration, a Villum Kann Rasmussen Centre of Excellence.
For more details, including information on the structure of the conference and how to register, please visit the e-Conference webpages.
Additional information
e-Conference sessions and speakers