A two-day scientific meeting is discussing how nitrous oxide, a potent and long-lived greenhouse gas, can be better understood and what steps might be taken to combat its release. The meeting, on May 23-24 2011, is hosted by the Royal Society, with speakers including CEH atmospheric scientists Professor David Fowler FRS and Dr Ute Skiba.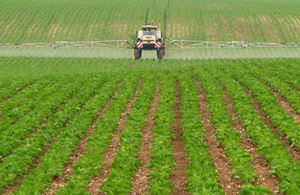 Nitrous oxide (N2O), which is produced both naturally and synthetically, has been termed the "forgotten greenhouse gas". The meeting discusses topics including biological sources of N2O emissions and consequent problems such as ozone depletion and emissions from wastewater treatment systems, control of N2O production and consumption, current measurement and modelling of N2O balances, and strategies for mitigating nitrous oxide emissions, including in agriculture.
Dr Ute Skiba, a biogeochemist based at CEH's Edinburgh site, has been studying the soil atmosphere exchange of trace gas fluxes, principally nitrous oxide, nitric oxide and methane for more than 20 years. Prof David Fowler's research career has included work on the major gaseous atmospheric pollutants, aerosols and greenhouse gases.
Other speakers at the event, at the Kavli Royal Society International Centre in Newport Pagnell, are due to include Nobel laureate Professor Paul Crutzen and Professor Keith Goulding of Rothamsted Research.
The Centre for Ecology & Hydrology led the research which produced the recently published European Nitrogen Assessment, the first time that the multiple threats of nitrogen pollution, including contributions to climate change and biodiversity loss, have been valued in economic terms at a continental scale. The report provided EU policymakers with a comprehensive scientific assessment on the consequences of failing to address the problem of nitrogen pollution.
Additional information
Meeting details and programme (Royal Society)
Research interests of Professor David Fowler
Excessive nitrogen harms the economy and environment – first Europe-wide assessment published - 11 April 2011
Details of CEH's Biogeochemistry Science Programme
You can follow the latest developments in CEH research via Twitter and our RSS news feed.