What happens when water falls from the sky and how does it move once it's on the ground? Lucy Barker, a Hydrological Analyst with the Centre for Ecology & Hydrology, discusses flooding and hydrology on the latest edition of 'Science for the People', a weekly American podcast and radio show that broadcasts internationally.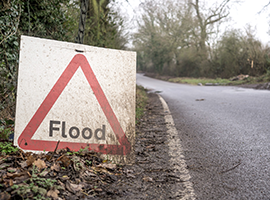 The one-hour show consists of long-format interviews with science experts and academics. Lucy is a guest on 'Flooded', an edition first broadcast on 15 September in which she explains more about some of the different types of flooding. The programme is available to download or stream online. The programme also features Anne Jefferson, Associate Professor in the Department of Geology at Kent State University talking about urban flooding and stormwater.
Lucy Barker works on a range of UK and international research projects and also contributes to operational projects including the National Hydrological Monitoring Programme, which is run by CEH with the British Geological Survey. The NHMP produces the monthly UK Hydrological Summary as well as analysis on long-term hydrological change and in-depth reports on extreme flood and drought events.
Related links
Staff page of Lucy Barker, Centre for Ecology & Hydrology