The Large Blue butterfly became extinct in Britain in 1979. But thanks to a partnership of conservation organisations, an incredible 10,000 flew on 11 core sites and 9 smaller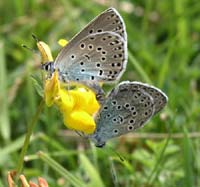 ones this summer. That is more than have flown in Britain at any time in the last 60 years. More than 150 scientists, conservationists and volunteers worked on the project, which is run in partnership between ten organisations, co-ordinated by the Centre for Ecology and Hydrology (CEH) and the conservation charity Butterfly Conservation.
The key to the survival of the Large Blue is making sites ideal for the Myrmica sabuleti red ant. The butterfly spends the larval stage of its life in an ant's nest, where it feasts on ant grubs, and pupates. In the 1970s, Professor Jeremy Thomas of CEH found that up to five species of red ant would adopt a Large Blue caterpillar but the butterfly would only survive in the nest of one of them: the Myrmica sabuleti ant.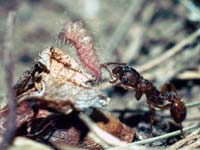 Large Blue caterpillar and antDave Simcox of CEH, who is manager of the Large Blue Project, said: "Whilst one landscape in Somerset is reasonably secure, the real challenge is to replicate this success throughout the Cotswolds, South Devon and the North Atlantic coasts of Devon and Cornwall. This will not only benefit Large Blues but also a wide variety of other rare, local and common species that thrive in the same environments."
The Large Blue project demonstrates that, with a combination of world class science and long term funding, the efforts of conservation organisations and research scientists can turn around the fortunes of species and bring them back from extinction.
Links
BBC Radio 4 Today Programme: Interview with Professor Jeremy Thomas (Requires Real Player)