The new Environment Secretary David Miliband visited Wytham Woods near Oxford yesterday to launch a new report from the Centre for Ecology & Hydrology (CEH). The report concludes that climate change poses an immediate challenge to the European Union's target of halting biodiversity loss by 2010.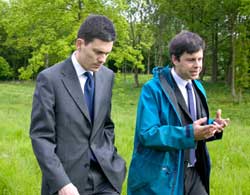 Dr Mike Morecroft of CEH helps co-ordinate the UK Environmental Change Network (ECN) which includes a monitoring site at Wytham Woods. Michael led David Miliband on a tour of the science taking place at Wytham.
The new report was commissioned by Defra as a contribution to the UK Presidency of the European Union and includes summaries of discussions which took place during meetings hosted by the UK Presidency.
The visit was widely reported on BBC TV and Radio and occurred on the same day as the broadcast of a major new BBC1 Series on Climate Change from Sir David Attenborough "Are we changing Planet Earth".
ECN is the UK's long-term, integrated environmental monitoring and research programme which gathers information about the pressures on and responses to environmental change in physical, chemical and biological systems. The ECN network of 54 sites is co-ordinated by the Centre for Ecology and Hydrology. It is supported by a consortium of 14 sponsoring organisations and nine research organisations, including Defra.
Additional Information