Energy Lancaster, a new virtual institute for energy research linking different faculties and departments at Lancaster University with the Centre for Ecology & Hydrology (CEH), has been officially opened by Mr Charles Hendry, Minister of State for Energy and Climate Change. CEH's Lancaster site forms part of the Lancaster Environment Centre (LEC), allowing close collaboration between CEH and university staff in a number of research areas, including energy.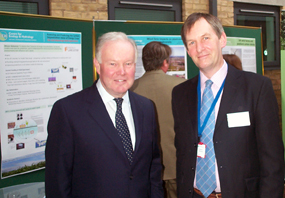 CEH plays a key role in many of the research themes which Energy Lancaster will undertake, contributing to the development and management of a secure and sustainable future for the UK's energy needs. The opening event took place on Thursday March 10, with a number of CEH scientists in attendance.
The minister gave a brief address emphasizing the need for interdisciplinary research to help support Government policy and encouraging collaborative efforts such as that occurring at Lancaster.
Following the address there was a brief question and answer session with a panel of experts, including Dr David Howard of CEH, who is also director of the Centre for Sustainable Energy at Lancaster Environment Centre. One of the questions came from an engineer who asked, "As public opinion seems to be against any sensible development of the energy system should we ignore them and press ahead anyway?" The minister replied about issues of trust, saying that MPs, reporters and now bankers are not believed by the general public and that scientists have to fight to maintain the faith people have in them. He said we should expect searching questions but, by being open and by presenting well reasoned arguments and evidence, sensible ideas will prevail.
Other questions covered a range of topics from feed in tariffs (FITs), through fragmentation of the system to lack of Government support, and the need for improvements in efficiency.
The launch was accompanied by a poster display and networking session. CEH displayed posters on topics covering biofuels, wind power and biomass and were also associated with a number of joint posters with Lancaster University researchers on topics such as small scale hydro power and carbon sequestration.
Lancaster, through the university and Lancaster Environment Centre, has world leading expertise in a wide range of disciplines with interests in energy. Energy Lancaster for the first time brings together departments from all four faculties: Science and Technology, Arts and Social Science, Management and Health and Medicine. Issues already benefiting from these cross-department links include energy policy, nuclear power, carbon management, wet renewables, photovoltaics & photocatalysis, e-Energy, transport (design and usage) and energy economics. The university is providing some financial support for the initial stages and a sandpit event is being held in April to create new links and highlight opportunities.
"CEH is seen as an integral part of Energy Lancaster and we are welcomed as collaborators." Dr Howard said.
Additional information
Bioenergy crops research at CEH
Research interests of Dr David Howard
You can follow the latest developments in CEH research via Twitter and our RSS news feed.