Scientists have discovered that as well as being larger, hungrier and more aggressive than most British native ladybirds, the invasive alien harlequin ladybird is also more resistant to fungal disease and a parasitic wasp, two common natural enemies of native ladybirds.
Image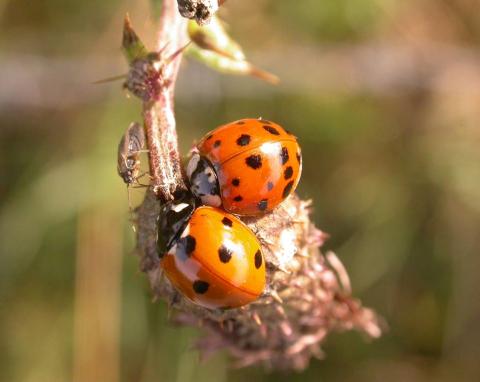 Speaking this week at the British Ecological Society's Annual Meeting at Imperial College, London, Dr Helen Roy from the Centre for Ecology & Hydrology explained how this resistance to parasites is aiding the harlequin's spread in the UK and how the results are helping researchers home in on its weak spot.
Dr Roy compared the behaviour and mortality of both the harlequin and native British ladybirds after infection with the fungal disease Beauveria bassiana. She found that native species succumbed very readily to the disease, whereas most of the harlequins survived. Interestingly, however, the number of eggs the infected harlequins produced were dramatically reduced.
According to Dr Roy, "The harlequin ladybird has been a successful invader worldwide. This could partly be down to its ability to escape the effects of resident natural enemies, such as this fungal disease, which have a major impact on native ladybirds."
Image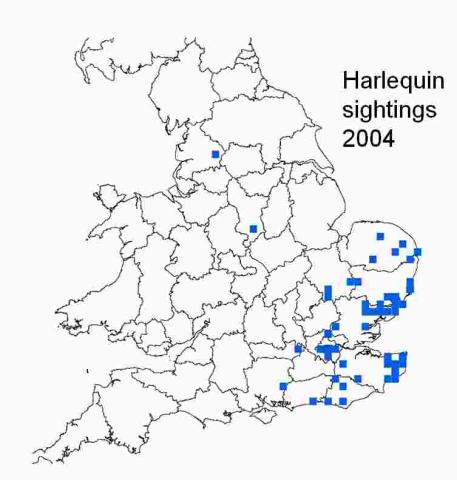 "It is fascinating that even though the fungus killed only a few harlequin ladybirds, the exposed females produced far fewer eggs. We often use death as our only measure of the impact of disease on animals but this study shows that it's important to look for subtle interactions."
"Unfortunately, this fungus is not a viable control method for the harlequin because native ladybirds are highly susceptible to the disease, so we need to keep looking for other ways to control it. One possibility is semiochemicals – chemical compunds that are used to communicate messages within and between species of ladybirds. Scientists are just beginning to understand how semiochemicals vary between different species of ladybird. With time it might be possible to manipulate semiochemicals as a control method, perhaps by using the chemicals to lure harlequin ladybirds into traps."
The harlequin ladybird, Harmonia axyridis, arrived in England in 2004 and was first recorded in Scotland and Northern Ireland in December 2007. It is the most invasive ladybird on Earth and is a major threat to British ladybirds because - compared to native species - the harlequin is large, aggressive and has a huge appetite. Harlequins also bite humans and infest vineyards where the defensive chemicals (reflex blood) it produces taint the wine.
Image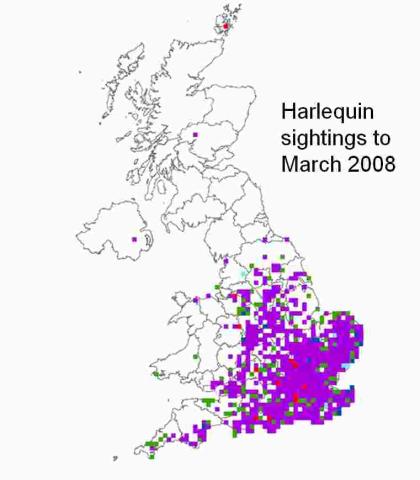 In a second paper to the BES Annual Meeting, Dr Roy will be talking about the UK Harlequin Ladybird Survey and the vital part the public has played in spotting the invader. Dr Roy said, "The public has played a crucial role in tracking this alien ladybird and has enabled us to build up a detailed picture of where this species is and what it is doing. We can use this information to help answer many questions and we hope that we can learn lessons from this survey that will be useful for understanding other wildlife invasions."
Additional information
Media enquiries about this work should be directed to the Centre for Ecology & Hydrology press office.
Previous CEH news story on the Harlequin Ladybird - Public interest charts the impact of the most invasive ladybird on earth - 7th February 2008
Press coverage: The Telegraph - 3 September 2008 - Progress on Harlequin ladybird's weaknesses (external link)
More details of the Harlequin Ladybird Survey are available on the survey website. The UK Harlequin Ladybird Survey was established by CEH, Cambridge University and Anglia Ruskin University through the National Biodiversity Network (NBN) Trust and with start-up funding from Defra. 
Dr Helen Roy presented her findings at 13:40 (UK Harlequin Ladybird Survey) and 17:50 (harlequin ladybird control) on Wednesday 3 September 2008 to the British Ecological Society's Annual Meeting at Imperial College, London.
The British Ecological Society's Annual Meeting attracts hundreds of ecologists, making it Europe's largest ecological conference. The British Ecological Society is a learned society, a registered charity and a company limited by guarantee. Established in 1913 by academics to promote and foster the study of ecology in its widest sense, the Society has 4,000 members in the UK and abroad. Further information is available on the Society website.