Drought conditions eased markedly throughout parts of the UK during an often wet August, according to the latest UK Hydrological Summary. Despite this, some regions such as Yorkshire and parts of western Scotland were still experiencing rainfall deficiencies into September.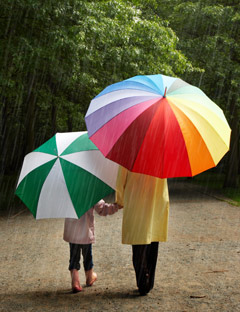 There were significant differences region by region in rainfall totals during the month. From the 22nd-30th August, a notably wet sequence of days produced rainfall totals exceeding the August average over much of the English Lowlands. Oxford registered its highest August rainfall in a series from 1767, and monthly totals reached three times the August average in some areas (mostly in East Anglia).
By contrast, some northern regions of the UK were relatively dry. The August rainfall total fell below 60% of average in much of Northern Ireland and some coastal districts of western Britain.
The result is that seasonal river flow recessions were generally reversed during the second half of the month and soils are now relatively moist, providing a good foundation for a continuing recovery in river flow and groundwater recharge rates through the autumn. However rainfall amounts over the next two months will be crucial in translating the anticipated recovery into a reality.
Reservoir stocks also fell less than is normally the case in August, leaving overall stocks for England and Wales close to the early September average.
The figures show that, despite a dry June, it was overall another wet summer (June-August), with rainfall above average for almost all regions. This adds to a notable cluster of wet summers for England and Wales – the 2007-2010 period boasts the wettest four-year sequence of summers on record (in the Met Office series which begins in 1914.)
The analysis is contained within the latest monthly hydrological summary (for August) produced by the National Hydrological Monitoring Programme (NHMP), operated by the Centre for Ecology & Hydrology (CEH) in conjunction with the British Geological Survey.
NHMP scientists produce the UK Monthly Hydrological Summary which assesses rainfall, river flows, groundwater and reservoir levels. They also operate the National River Flow archive. The NHMP has a remit to analyse major flood and drought events in the UK and analyse long term trends in UK hydrological data. The Programme was set up in 1988 and relies on the active co-operation of measuring authorities throughout the UK.
Related CEH links
Read the full August 2010 hydrological summary (PDF, 1.56mb)
National Hydrological Monitoring Programme
July 2010: a month of exceptional spatial contrasts in rainfall and river flow patterns within the UK – 12 August 2010
Exceptionally dry January to May leads to low river and reservoir levels - 17 June 2010