Our Dorset scientists have been out and about this summer speaking with the public and showcasing current work. Staff attended two country festivals, the first located next to a castle and second on a pier on the coast.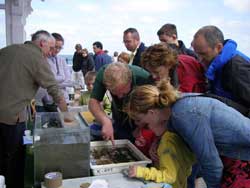 At the end of July Cynthia Davies and Judith Wardlaw attended the "Spirit of the Countryside" festival at Lulworth Castle. Cynthia and Judith helped visitors find out more about CEH's work on river, population and conservation ecology. Over 300 members of the public visited our stand during the two days. Visitors hunted for insects, learnt about differences between frogs and toads and identified river invertebrates and fish from the River Piddle.
In mid-August CEH staff Andrew Worgan, Richard Caldow & Judith Wardlaw attended Seafest Swanage 2006 held on Swanage Pier. Here our stand showcased work on Poole Harbour, climate change and Dorset rivers. Seafest Swanage is an annual family fun event held as part of Dorset Marine Week. Despite the unseasonal freezing weather around 300 people visited the stand with both adults and children enjoying a shorebird foraging game devised by Richard Caldow to demonstrate how wading birds behave.