May had a distinctly autumnal feel, continuing a pattern of below average temperatures that has persisted throughout spring 2013, while the majority of the UK received above average rainfall, according to the latest update to the UK's most authoritative analysis of water resources status.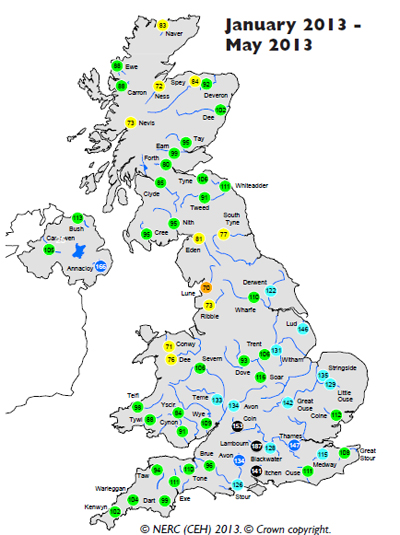 Pockets of north-west Scotland and north-east England reported more than twice the long-term monthly average rainfall. Large areas of Scotland, Wales, Northern Ireland and northern and central England received more than 125% of average monthly rainfall, and this was the first year since 2007 in which May was wetter than normal. Nevertheless, moderate medium-term rainfall deficiencies characterise much of the UK, although groundwater resources remain healthy.
The analysis is contained in the monthly hydrological summary for the UK, covering the month of May 2013. The monthly summaries are produced by the National Hydrological Monitoring Programme, operated by the Centre for Ecology & Hydrology (CEH) in conjunction with the British Geological Survey.
Simon Parry, from the Centre for Ecology & Hydrology, said, "Following the significant hydrological volatility of the three previous years, 2013 thus far has been relatively unremarkable by comparison, and the water resources outlook remains very favourable."
A PDF of the full 12-page May 2013 summary can be downloaded here. [PDF 1.92MB]
The Centre for Ecology & Hydrology jointly operates the National Hydrological Monitoring Programme (for the UK) in conjunction with the British Geological Survey. NHMP scientists produce the UK Monthly Hydrological Summary which assesses rainfall, river flows, groundwater and reservoir levels. They also operate the UK's National River Flow archive. The NHMP also has a remit to analyse major flood and drought events in the UK and analyse long term trends in UK hydrological data. The UK Monthly Hydrological Summary is published on, or before, the tenth working day, of the following month.
Additional information
Read the full May 2013 Hydrological Summary for the UK [PDF, 1.92MB]
Hydrological summary archive - dating back to December 1988
Details of the National Hydrological Monitoring Programme
Datasets hosted by CEH: National River Flow Archive, National Water Archive and others
Media enquiries related to the Hydrological Summaries should be directed to the CEH Press Office. Our scientists can provide explanation and analysis of historic hydrological patterns, possible future scenarios under climate change and scientific understanding of the current situation. We are not able to comment on immediate operational issues.
If you wish to reproduce figures from the Monthly Hydrological Summary please respect the copyright credits contained within the document.
You can follow the latest developments in CEH research via Twitter and our RSS news feed.