On Sunday, the 26th November, the Channel 4 series 'Wild Thing I Love You' featured the work of Dr René van der Wal and colleagues from the Centre for Ecology and Hydrology research sites at Banchory and Edinburgh. The programme focused on finding a solution to puffin decline on the island of Craigleith on the East Coast of Scotland.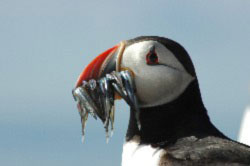 Each week in 'Wild Thing I Love You', Bill Bailey leads a team of experts on a mission to rescue some of the UK's most vulnerable wildlife.
Dr van der Wal has spent several years investigating the decline of puffins on the island, which are being forced out by giant alien plants. Puffin numbers have halved in recent years as the invasive tree mallow took over the island following climate warming, growing in the manure-rich burrow entrances and preventing the puffins from breeding.
Dr van der Wal commented "It was great to have the opportunity to reach a large audience and tell them how climate change, along with other factors, may influence ecosystems on our door step. It may change the way people look at climate change and will certainly raise the profile of the spread of invasive species, given a taster of what is going to come our way in the near future."
'Wild Thing I Love You' was broadcast at 4:50pm on Sunday 26th November on Channel 4.