This week more than 100 experts from around the world are meeting in London to define the way forward for monitoring UK biodiversity.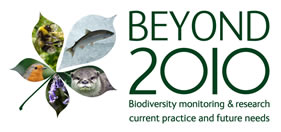 The experts are taking part in the 'Beyond 2010: strategies for understanding and responding to long-term trends in UK biodiversity' conference, organised by the Centre for Ecology & Hydrology (CEH), the Environmental Change Network (ECN) and the Natural History Museum (NHM).
The conference, taking place on 16 and 17 November at the NHM, is highlighting the central role long-term studies play in addressing key biodiversity-related issues, and exploring future directions for this area of research. The meeting is part of the UK's contribution to the International Year of Biodiversity.
The UK boasts a rich history of biological and ecological surveying, monitoring and research, but very few monitoring programmes have been maintained for long enough to provide definitive data on long-term trends and provide the necessary guidance for future management. Those that have survived face an uncertain future, particularly in the current economic climate, while developments in scientific understanding and instrumentation, and increasing public involvement, present new areas of concern and opportunity where monitoring should play an important role in the future.
Biological monitoring allows not only the quantification of rates of change but, together with experimental and modelling approaches, also improves understanding of the drivers and processes of change, and allows the development of better strategies to protect biodiversity.
Presentations will cover applications of biodiversity monitoring, involvement of the public in monitoring, and future needs, opportunities and challenges, with speakers drawn from a variety of organisations including the Environment Agency, Defra, the Marine Biological Association, Butterfly Conservation, the British Trust for Ornithology, several UK universities as well as CEH and the NHM.
Outputs from the conference will be summarised in the form of recommendations for the improvement and future development of biodiversity monitoring and research in the UK and elsewhere.
Further information
For more details visit the Environmental Change Network website
CEH staff speaking at the conference include: Dr Stephen Maberly, Don Monteith, Dr Lisa Norton, Dr Terry Parr and Dr David Roy.
International Year of Biodiversity
CEH's Biodiversity Science Programme
CEH's long term monitoring projects encompasses many biodiversity related activities including: