Taking place soon after the Nagoya biodiversity summit, the Centre for Ecology & Hydrology (CEH), the Environmental Change Network (ECN) and the Natural History Museum are bringing together key experts to discuss best practice in monitoring biodiversity.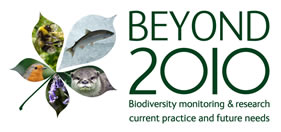 Beyond 2010: strategies for understanding and responding to long-term trends in UK biodiversity (16-17 November, NHM London) will highlight the central role long-term studies play in addressing key biodiversity-related issues, and explore future directions for this area of research.
Sessions will consider a variety of applications of biodiversity monitoring, involvement of the public in monitoring, and future needs, opportunities and challenges. A keynote address will be given by Richard Benyon MP, Minister for Natural Environment and Fisheries. Other speakers are drawn from organisations such as Defra, the statutory conservation agencies, the Environment Agency, the Marine Biological Association, Butterfly Conservation, the British Trust for Ornithology, several UK universities as well as CEH and the Natural History Museum.
Group discussion sessions will enable delegates to pursue issues in greater depth and outputs will be summarised in the form of recommendations for the improvement and future development of biodiversity monitoring and research in the UK and elsewhere.
A few delegate places are still available. For more details and to register online visit the website. There is a £60 delegate fee.
The registration deadline is 31 October 2010.
Further information
CEH staff speaking at the conference include: Dr Stephen Maberly, Don Monteith, Dr Lisa Norton, Dr Terry Parr and Dr David Roy.
The conference will be hosted by the Natural History Museum, London.