Tree-health experts at the Centre for Ecology and Hydrology (CEH) have played a key role in creating a new computer game which teaches valuable lessons in tree health.
It is hoped that the game, CALEDON, which is aimed at teaching people, from secondary school age upwards, more about how we can sustainably manage our forests to cope with new pests and diseases, could become part of the science curriculum.
The game is a virtual forest survival strategy game where players make decisions about the tree species and seed sources to use for planting, what and when to cut down, and how to cope with pest and disease outbreaks. All affect whether their forest prospers or declines.
Image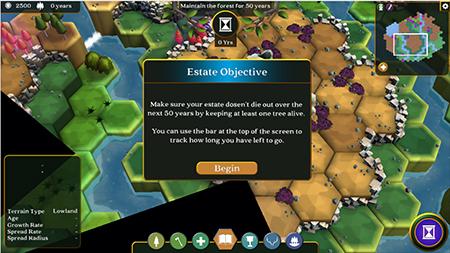 Players learn, through different levels of the game, about how different species have distinct ecology and how making use of diversity can help to keep a forest resilient. They also learn about the wide range of things – from pests and diseases to illegal logging to unexpected animal herds – that forest managers have to deal with to keep their forests going.
CALEDON is underpinned by new science from seven research partners in the UK's PROTREE project which is part of the £7 million Tree Health and Plant Biosecurity Initiative that supports research and engages with stakeholders in plant health.
Dr Stephen Cavers, PROTREE coordinator and a senior scientist at the Centre for Ecology & Hydrology, who jointly led the development of the game, said, "Trees are an essential part of our environment and the threat from new pests and diseases is growing.
"CALEDON helps us to get across messages about thinking carefully about what we plant and where. Players have to weigh up the balance between risk and reward – whether they would rather stake everything on one productive species and risk disaster if a pest or pathogen comes along, or make use of variety and aim for resilience."
"CALEDON helps us to get across messages about thinking carefully about what we plant and where." Dr Stephen Cavers, Centre for Ecology & Hydrology
He added "We hope the game will be useful for teachers and interesting for their students, but it's not just for schoolchildren. Already CALEDON has been used for training forestry department staff in Malaysia, so has played a small part in protecting the rainforest!"
Download or play CALEDON  by clicking here.
Additonal information
The PROTREE project promotes the resilience of UK tree species to novel pests and pathogens using ecological and evolutionary solutions, aiming to find sustainable approaches for securing tree health. This is achieved through research on the ecology and evolution of trees, their pests and pathogens within their social and economic context.
The project was an initiative of the Living with Environmental Change Partnership with support from the Biotechnology and Biological Sciences Research Council, Department for Environment, Food and Rural Affairs, Economic and Social Research Council, Forestry Commission, Natural Environment Research Council and the Scottish Government.
Staff page of Dr Stephen Cavers, Centre for Ecology & Hydrology