Current UK government policy is to increase the land area given over to bioenergy crops. This policy should result in a decrease in emissions of one greenhouse gas, carbon dioxide, compared with current combustion of fossil fuels, but the potential co-release of two other greenhouse gases, nitrous oxide and methane, is not well understood.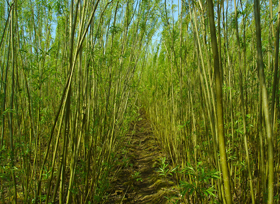 A new study, published in the scientific journal GCB Bioenergy, examined the impacts of cultivating bioenergy crops on nitrous oxide, methane and carbon dioxide emissions from soil. The study concluded that two perennial bioenergy crops, Elephant grass and willow, only emit less greenhouse gases than annual crops when they receive no or very low rates of nitrogen fertilizer.
The research team compared soil emissions from Elephant Grass (Miscanthus x giganteus) and willow (salix) with emissions from annual arable crops grown for food production. The study was carried out in North East England on adjacent fields of willow, Elephant grass, wheat (Triticum aetivum) and oilseed rape (Brassica napus).
Dr Julia Drewer from the Centre for Ecology & Hydrology led the study. She said, "It is important to demonstrate that replacing fossil fuel with bioenergy crops can reduce the national greenhouse gas footprint. Our experiment showed that the nitrous oxide emissions from Elephant grass and willow were lower than for wheat and oilseed rape simply because good yields were initially achieved without the nitrogen fertilizer application required by annual arable cropping systems."
"The current practice in the UK is not to regularly fertilize perennial bioenergy crops. However, if such bioenergy crops are fertilized further on in their lifespan when yields decrease, as is already done in some other European countries, greenhouse gas savings will be much smaller."
The scientific team measured nitrous oxide, methane fluxes and soil respiration rates monthly using static chambers from June 2008 to November 2010. Net ecosystem exchange of carbon dioxide was measured by eddy covariance on Elephant Grass from May 2008 and on willow from October 2009 until November 2010.
Dr Drewer added, "This study shows that long-term measurements are required to consider the impact such crops will have on greenhouse gases. In order to provide a full assessment we are now carrying out further work, both at the Lincolnshire site and elsewhere in the UK."
The study was carried out by scientists from the Centre for Ecology & Hydrology and the University of Aberdeen. This project was funded by the Natural Environment Research Council
Additional information
Details of CEH's Bioenergy crops research
You can follow the latest developments in CEH research via Twitter and our RSS news feed.