The Centre for Ecology & Hydrology (CEH) has contributed its expertise to a major new report which shows climate change is clearly affecting marine species including seabirds who face an uncertain future.
Dr Francis Daunt, an animal population ecologist at CEH, provided scientific evidence of the drivers of change in seabird populations as part of the UK Marine Climate Change Impacts Partnership (MCCIP) report which demonstrates the important effects climate change is having on the UK's coastal wildlife and environments.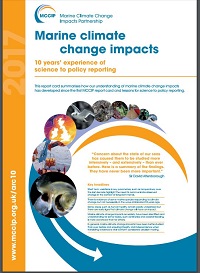 He is one of 400 scientists, from institutions such as the Joint Nature Conservation Committee and Aarhus University in Denmark that have shared their expertise of coastal seas ecology as evidenced in the MCCIP report 'Marine climate change impacts: 10 years' experience of science to policy reporting.'
Dr Daunt's research shows that UK seabirds face an uncertain future due to climate change. The productivity of some species, such as fulmars, Atlantic puffins, little and Arctic terns and black legged kittiwakes are particularly being affected by temperature rise, while severe storms are impacting on the breeding success of razorbills.
The MCCIP report considered a range of factors over the past 10 years where climate change could impact on the marine environment. These included warming seas, changes in the distribution of marine species and increased risks of coastal flooding.
Other key findings highlighted include:
A clear long-term warming trend is evident despite year-to-year fluctuations in temperature over the past decade. Some of this variability can be attributed to short-term changes in the strength of the Atlantic Ocean circulation, which has been linked to recent severe winters in the UK.
Climate change is affecting marine species and habitats but not in ways expected 10 years ago. For example, squid and anchovies are now more common in UK water, with clear links to climate change, whereas for non-native species other factors such as ballast water and ship hulls have been more important for their establishment.
Extreme high-water events are becoming more frequent at the coast due to sea-level rise but this has not led to increases in coastal flooding because of better flood defences, emergency planning, forecasting and warning.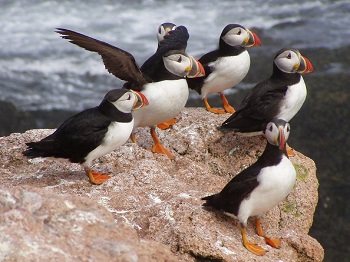 Dr Matt Frost, chair of the MCCIP working group that delivered the report, said, "Since 2006 we have been working with the marine scientific community to provide timely, independent, non-biased information to policy-makers. As often happens in science, we have learnt that things are more complicated than first thought but in general, earlier predictions on climate impacts on the marine environment have been borne out.
"What has been exciting with this project has been being involved in the development and evolution of a robust mechanism for communicating science to policy-makers that has now been taken up as a model for use in other countries and for other elements of science to policy reporting."
Additional information
The MCCIP is a partnership between scientists, government, its agencies, non-governmental organisations (NGOs) and industry. The principle aim is to provide a co-ordinating framework for the UK, so as to be able to transfer high quality evidence on marine climate change impacts, and guidance on adaptation and related advice, to policy advisers and decision makers.
For more information on the MCCIP visit their website.