Two leading laboratories in South Oxfordshire have teamed up to gain a unique understanding of the role of the minute particles involved in river pollution.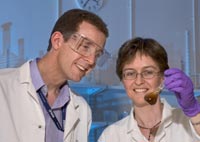 Water quality scientists at the Centre for Ecology & Hydrology (CEH) in Wallingford have become increasingly aware of the significance of tiny particles (typically a ten-thousandth of a millimetre in size) in the transport of pollutants, and the impacts they may have on the ecology and health of streams and rivers. But they needed a new technique to fully understand how these particles behave in aquatic environments.
Last month, CEH scientist Dr Helen Jarvie carried out a series of experiments at ISIS, the world's most powerful pulsed neutron source, in collaboration with with ISIS scientist Dr Steve King. ISIS, located at the CCLRC Rutherford Appleton Laboratory in Chilton, Oxfordshire, looks at the atomic structure of a wide range of materials such as polymers, ceramics and alloys. For the first time, the same techniques have been applied to samples from freshwater environments such as river water and river bed sediments which are a mixture of mineral and organic particles.
Dr Jarvie is pleased with the results so far, "We have already learnt a lot about how different mineral and organic particles behave in a river environment. New European environmental legislation requires better understanding of the ecological impacts of pollutants in rivers and this research is vital for protecting and improving water quality. We hope to carry out further research at ISIS later in the year."
Additional Information
Press release "A clear view through muddy water"