Dr Mike Wood from the  University of Salford and Professor Nick Beresford from the Centre for Ecology & Hydrology won the 'Research Project of the Year' award for their work in the Chernobyl exclusion zone at last night's Times Higher Education Awards 2016. They received the award at prestigious ceremony held at the Grosvenor House Hotel, Park Lane, London attended by over a 1000 guests including Jo Johnson, Minister of State for Universities, Science, Research and Innovation.
The award winning project, which has increased understanding of how nuclear radiation affects animal life, is part of the TREE project, a five-year programme of research in the Chernobyl Exclusion Zone that is funded by the Natural Environment Research Council, the Environment Agency and Radioactive Waste Management Ltd
Image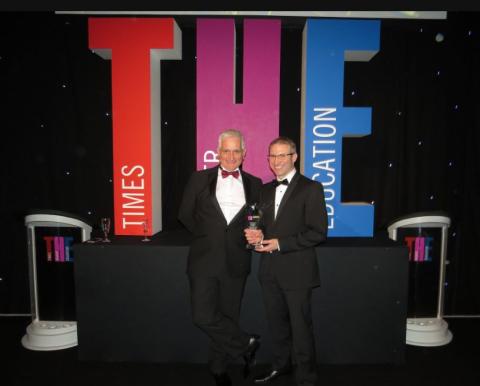 It is now 30 years since the Chernobyl disaster and the exclusion zone around the accident site is still heavily contaminated. Dr Wood and Professor Beresford working with colleagues from Ukraine's Chornobyl Center, have used the area as a laboratory to study the continuing effect of the disaster on wildlife.
The research team set up 250 motion-activated camera positions and bioacoustic recorders to track animals. The cameras provided more than 45,000 images that allowed the researchers to answer fundamental questions about the relationship between radiation exposure and biodiversity.
Image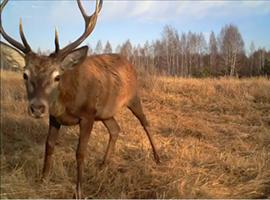 The data collected has shown that a thriving community of large and medium-sized species exist in the exclusion zone. The findings have also contributed to high-level debate about the potential creation of a Chernobyl nature reserve and garnered a huge amount of press coverage. 
The judges said that the collaboration with Ukrainian colleagues was impressive in the way that it used "groundbreaking radiological methods to explore the impact of nuclear radiation on wildlife in the Chernobyl area".
Additional information
The overall objective of the TREE project is to reduce uncertainty in estimating the risk to humans and wildlife associated with exposure to radioactivity and to reduce unnecessary conservatism in risk calculations. This isachieved through four interlinked science components beginning with improving our understanding of the biogeochemical behaviour of radionuclides in soils through to studying the transgenerational effects of ionising radiation exposure on wildlife. The research programme combines controlled laboratory experiments with fieldwork; most of which takes place in the Chernobyl Exclusion Zone (CEZ).