Leading scientists have contributed to a series of research papers about the impacts of global warming to coincide with the opening of the Climate Change Conference in Cancun, Mexico.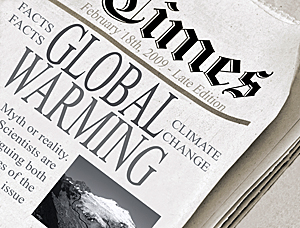 One study, led by Niel Bowerman of the Oxford University, and co-authored by Dr Chris Huntingford from the Centre for Ecology & Hydrology, warns that the conference will fail to meet its objectives unless it addresses not just how much the planet warms, but also how fast it warms. Potentially dangerous rates of global warming could outpace the ability of ecosystems and manmade infrastructure to adapt, it argues.
In a second paper co-authored by Dr Huntingford, Przemyslaw Zelazowski and colleagues examine the sustainability of tropical rain forests in a changing climate.
The papers are in a special journal issue 'Four degrees and beyond: the potential for a global temperature increase of four degrees and its implications' published today in Philosophical Transactions of the Royal Society A.
Bowerman's study shows that to achieve their aims, negotiators must limit the maximum global emission rate as well as the total amount of carbon emitted through to 2200. At the Cancun conference, politicians will be discussing emission targets for 2020 and 2050 with the aim of limiting global warming to not more than two degrees Celsius. The new study found that setting targets for the peak rate of emission and total cumulative emissions to 2200 would be a much better way of framing an evidence-based policy for carbon dioxide emissions.
In addition to the papers in Philosophical Transactions CEH has published this week its global climate-carbon cycle model IMOGEN in the open access journal Geoscientific Model Development. This paper was led by Dr Huntingford, and the author list includes CEH's Dr Lina Mercado and Andrew Everitt as well as colleagues from the Met Office and the Universities of Oxford, Reading and Sheffield. This system is freely available to policymakers, and allows a rapid method to determine ecological response, along with food and water security, for a broad range of future potential emissions scenarios.
Over the weekend Dr Huntingford was interviewed by the Observer newspaper about his new work and his recent AVOID project analysis for the 2009 COP15 Copenhagen climate meeting. This covered societal decarbonisation required to avoid crossing the two degrees global warming threshold.
Additional information
Table of contents. Theme Issue 'Four degrees and beyond: the potential for a global temperature increase of four degrees and its implications' compiled and edited by Mark G. New, Diana M. Liverman, Richard A. Betts, Kevin L. Anderson and Chris C. West. Philosophical Transactions A
Huntingford,C. et al. IMOGEN: an intermediate complexity model to evaluate terrestrial impacts of a changing climate, Geosci. Model Dev., 3, 679-687, doi:10.5194/gmd-3-679-2010, 2010.
Observer: 28 November 2010 Climate change will cost a billion people their homes, says report
AVOID Can we avoid dangerous climate change? Project website
Details of CEH's Biogeochemistry science programme
Related CEH news
Plants absorb more carbon under hazy skies - 22 April 2009
Is global warming difficult to reverse? - 11 March 2009
CEH scientists speak on COP15 issues - 16 December 2009
Scientists at climate talks say changes to the nitrogen cycle cannot be ignored - 4 December 2009
Amazon dieback could be prevented - 17 February 2009