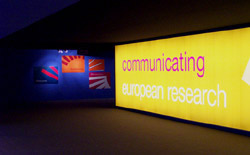 The Centre for Ecology & Hydrology (CEH) had a major presence at Communicating European Research 2005 which took place on the 14th/15th November in Brussels.
This large conference, organised by the EU Commission, was attended by 3000 delegates from around Europe ranging from journalists to Commission staff. The annual meeting is a BIOTA displayshowcase of top European research science.
Eleven CEH staff travelled to Brussels to run five exhibition stands. The stands advertised EU funded projects on such diverse subjects as climate change, biodiversity and water research in the developing world. Several other projects on show at the exhibition also involved CEH staff.
CEH Director Pat Nuttall commented, "The Communicating Research Conference provided a wonderful demonstration of how Centre for Ecology & Hydrology science is vitally important for land and freshwater research across Europe."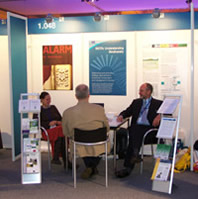 Additional Information
EU Projects involving the Centre for Ecology & Hydrology represented at CER2005

BIOTA - Understanding Biodiversity
TEMPQSIM - Water quality models for application to temporary waters