The Centre for Ecology & Hydrology (CEH) has joined the Willis Research Network (WRN), together with nine other leading scientific institutions from the UK and New Zealand.
The Willis Research Network is focused on evaluating the frequency, severity and impact of major catastrophes – from flooding to hurricanes and earthquakes - and seeks to help society at local and global levels manage these risks and share the costs of these events via public and private sector approaches. To achieve this, Willis has teamed up with 32 leading institutions across a full range of disciplines from atmospheric science and climate statistics, to geography, hydrology and seismology, to assess the impacts on the environment via engineering, exposure analysis and Geographic Information Systems.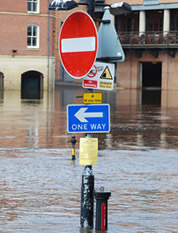 The ten new additions to the WRN reinforces the network's position as the largest partnership between academia and the re/insurance industry, and marks a major expansion in the network's ability to respond to the needs of the international re/insurance and risk sectors via research, expertise, applications and data.
It is expected that the expanded research capabilities of the WRN will have broad use in the public and private sectors beyond the insurance industry, as governments, populations and businesses confront the challenges of living with climate change and natural hazards.
In addition to CEH the following nine other institutions have also become associate members of the WRN: British Geological Survey, UK Met Office, National Centre of Earth Observation, National Centre of Atmospheric Science, National Oceanography Centre, Ordnance Survey, Plymouth Marine Laboratory, Proudman Oceanographic Laboratory and GNS Science, New Zealand.
Seven of these institutions are affiliated with the Natural Environment Research Council (NERC). CEH is also part of NERC.
Welcoming the ten new members into the Network, Rowan Douglas, Managing Director, Willis Re and Chairman of the Willis Research Network, said, "We have had the enormous pleasure and privilege of working with most of these world-leading institutions for some time. Collectively, they are a mighty force and are bringing major improvements to the understanding and evaluation of natural hazard risks in our sector. We are delighted to welcome them into the WRN where we hope they will enjoy even greater collaboration with our worldwide membership and international insurance and reinsurance industry partners."
The WRN is funded by Willis Group Holdings Limited (NYSE: WSH), a leading global insurance broker.
Additional information
Additional information can be found at the Willis Research Network and Willis.