18 year old Eric Topham from Dorset was awarded the AstraZeneca Young Innovators Award Prize at the BA CREST Science Fair held in London on Monday 27th February.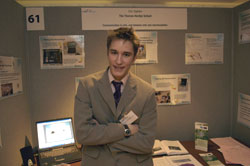 Eric's prize winning work was based on his project "Communication in ants, & between ants and alcon blue butterflies" carried out with staff at the Centre for Ecology & Hydrology research site at Winfrith Dorset. Equipment developed during the research was featured on the recent BBC One Series Life in the Undergrowth.
Roland Jackson, Chief Executive of the BA said "The projects on display at this year's science fair represent the pinnacle of the 23,000 BA CREST Awards presented over the year. Many of the contestants taking part this year will be the scientists, social scientists and engineers of the future."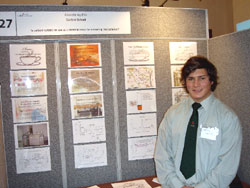 Alex AquilinaAnother exhibit at the Fair was a poster describing Alex Aquilina's project "Is caffeine suitable for use as a chemical tracer?" Alex also worked with CEH staff in Dorset and was the winner of the Gold Crest Award for the South West Region.
In other CEH science and society news staff at our Dorset site are currently engaged in their third Royal Society Partnership Grant working with Dumpton School near Wimborne. Drs Genoveva Esteban, Chris Reading and Gabriela Jofre are inspiring pupils to "Ppp... pick up a pond population".