More than 100 hydrologists, academics and water managers attended a special scientific meeting at CEH's Wallingford headquarters this week celebrating our role in 30 years of hosting the National River Flow Archive and National Groundwater Level Archive at the site. The one-day meeting reviewed the achievements of the archive and the exploitation of this valuable data resource by its broad user community from the UK Measuring Authorities, academia and the commercial sector.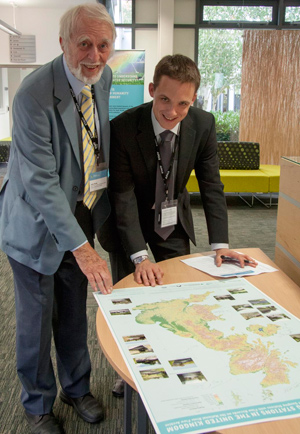 Current and former NRFA/NGLA staff discussed the history of hydrometric data management, the activities of the archives and their impact, and future directions. External speakers, from organisations such as the Environment Agency, SEPA, and the University of Dundee, provided their perspectives on uses for the data held in the archive. There was also a poster session and a display of hydrometric equipment, current and historic.
The National River Flow Archive now has more than 50,000 station-years of river flow data, from over 1500 gauging stations, with the longest records dating from the 19th century. The National Groundwater Level Archive holds more than 9,000 station years of data from its current network of stations and one-off or short period observations from over 50,000 water wells. Together the NRFA and NGLA have underpinned much of the hydrological research and water resources management activity carried out in the UK over the last three decades.
To mark the 30th anniversary of the NRFA at Wallingford, CEH published a series of blog posts exploring how the hydrometric data held by the archive have been used in past and present scientific research, and how such a valuable data resource is vital for taking a long view of both hydrological trends and significant one-off events. The series concluded with an article by the head of the National River Flow Archive, Jamie Hannaford, in which he looked ahead to future developments for the archive.
The day also saw the launch of the new publication, "The 2010-12 drought and subsequent extensive flooding – a remarkable hydrological transformation" [NEED NEW INTERNAL LINK], by scientists from the Centre for Ecology & Hydrology in partnership with the Met Office, and with technical guidance from the British Geological Survey.
Guests at the event signed a special commemorative poster showing the UK's gauging stations network, and were given a copy of the poster for themselves.
Additional information
The 2010-12 drought and subsequent extensive flooding – a remarkable hydrological transformation [PDF, 7.05mb]
Hydrometric data - the long view (blog post 1)
An unprecedented hydrological transformation (blog post 2)
National hydrometric data - what will the future bring? (blog post 3)
View photos from the NRFA 30th anniversary event on Flickr
A PDF copy of the Gauging Stations in the UK map is now available to download [4mb]