The Centre for Ecology & Hydrology has won the award for best educational stand at the Royal Welsh Show, which is being held in Builth Wells from 21 to 24 July 2008. The Show is one of the largest agricultural events in Europe, attracting over 200,000 visitors.
This year CEH's stand tackles the issue of managing carbon from mountains to the sea. It explains how carbon is stored in the soil with a peatland plot exhibit, which includes infra-red gas analysers that measure how much carbon dioxide is released from the soil into the atmosphere during the day and at night. Black gas chambers simulate nightime conditions while clear chambers represent the day.
Carbon is absorbed into the soil through plants by photosynthesis during the day. However, soil also looses carbon - for example when water travels through it into rivers or when it's ploughed. Peatlands store a huge amount of carbon. There is more carbon in Welsh peatlands than in all the living vegetation in the UK. If all the carbon stored in the Welsh peatlands was lost back into the atmosphere, the amount released would be the equivalent of 90 years of emissions from all the vehicles in Wales.
Included on the stand is a "Eddy Covariance" system, which is measuring the amount of carbon being released into the atmosphere during the Royal Welsh Show. There is also an exhibit that asks 'Which glass of water would you drink?' and includes water that has been gathered from four different types of environments. In this case the clear water is the most harmful to drink as it has high levels of aluminium while the brown water is the safest and the stand explains that it's an expensive process to make this water clear.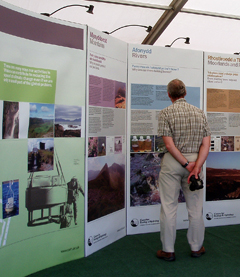 The final exhibit on the stand details scientific research CEH is carrying out at its new Conwy observory in Wales, which includes part of one of the biggest Welsh peat bogs. The research aims to develop understanding in how and why carbon is stored or lost in the bogs and mountains of Snowdonia, the forests and farms of the Conwy valley as well as the river and its estuary.
Additional information
CEH's Biogeochemistry Science Programme
CEH Research: Carbon exchange at the catchment scale
Media enquiries about this work should be directed to the Centre for Ecology & Hydrology press office.