The Centre for Ecology & Hydrology's Dr Claire Carvell spoke to 5000 members of the Women's Institute today (3 June) at their Annual General Meeting in London's Royal Albert Hall. Dr Carvell was responding to the Institute's plan to campaign for more government funding for research on honey bees and the reasons for their decline.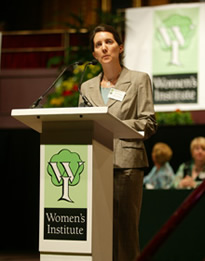 Dr Carvell urged the Institute to consider the need for all our wild pollinators, rather than just the honey bee, as an 'insurance policy' that we cannot live without. She explained, "With honey bee numbers dwindling and the obvious risks of relying on a single domesticated species to provide almost a third of the food we eat, it is vital to conduct more research into both managed and wild pollinator populations. This is especially important given our ecosystems have to increasingly stand up to major environmental challenges including climate change."
Honey bees are not the only pollinators declining. More than three quarters of Britain's butterfly species are declining, as are two-thirds of our 'common' larger moth species. Data on hoverflies, solitary bees and bumble bees are still very patchy, making the true extent of their declines hard to estimate. There are no standardised recording schemes for these groups and, unlike with honey bee hives, their nests are extremely difficult to find in the wild.
The economic value of pollinators to Britain, thought to be around £200 million per year, is often credited entirely to honey bees. Bumble bees and several other wild bee species are in fact much more effective pollinators of a number of crops such as field beans, clover, oilseed rape, tomatoes and apples. However, there is still very little known about how the yields of these and other crops may be adversely affected by lack of appropriate pollinator.
CEH, which has particular expertise in large-scale ecology, is involved in a newly launched £10 million initiative to find out more about pollinators.
With funding from government and industry, CEH also set up the BUZZ Project and developed a simple, low-cost seed mix containing pollen and nectar-rich plants. This can increase bumble bee numbers by more than 30-fold when sown at the edges of cropped fields.
This research has underpinned parts of the Natural England Environmental Stewardship scheme, which provides funding to farmers who deliver effective environmental management on their land. However, Dr Carvell explained: "Unfortunately to date uptake of options to create bee-friendly habitats has been disappointing. It's now vital that we better engage farmers in this process, and this is perhaps an area where the Women's Institute could become involved."
CEH is now working with industry partners that have set up a training scheme, Operation Bumblebee, to spread the word on pollinator conservation. More than 1000 hectares of the pollen and nectar mix have been sown by over 500 UK farmers. This approach is now being launched across Europe under the name Operation Pollinator.
Additional information
£10 million initiative launched to tackle bee and pollinator decline - 21 April 2009
CEH's Biodiversity Science Programme.
Details of CEH's The Big Bee Project.
Details of the BUZZ Project.
Useful links (external)