CEH science activities cover many of the issues under discussion at the COP15 United Nations Climate Change Conference in Copenhagen (7-18 December 2009). In the first week of the conference, the organisation supported the Nitrogen side event in the US Pavilion. This week CEH scientists have been sharing the results of recent research in two other areas: water resource assessment and climate modelling.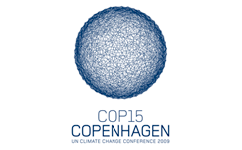 On 14 December Dr Richard Harding from the Centre for Ecology & Hydrology shared the stage with the IPCC chairman Rajendra K Pachauri. Both were speaking at the European Research - Contributing to Global Knowledge on Climate Change side event, which highlighted issues around working with partners from developing countries.
Dr Harding spoke on "Water and global change - adapting to changing water resources availability with focus on Africa partnership". This event illustrated how European research is contributing to the development of global knowledge on climate change by working closely with international partners from developing countries. Examples of EU and developing countries research cooperation projects were presented on the analysis of climate change impacts and adaptation or mitigation options.
On Friday 11 December, Dr Chris Huntingford, from the climate modelling team at CEH, was invited to contribute a guest commentary to The Times newspaper website prior to a live debate on climate change science.
His commentary focused on a 'back to basics' approach to climate science. Dr Huntingford's research focuses on how humans may alter the climate system through the burning of fossil fuels, with an emphasis on interactions within the global carbon cycle.
Additional information
The nitrogen side event at COP15 was organised by the International Nitrogen Initiative and the UK's Centre for Ecology & Hydrology. For more details, read CEH scientist Clare Howard's article about the event (opens in a new window).
The 'European Research - Contributing to Global Knowledge on Climate Change: Working with Partners from Developing Countries' side event was organised by the EU 7th Framework programme.
Related CEH links
Details of CEH's Biogeochemistry science programme
Details of CEH's Water science programme
Dr Chris Huntingford's staff page
Managing the European Nitrogen Problem - a publication from CEH and the Partnership for European Environmental Research
Related CEH news
Plants absorb more carbon under hazy skies - 22 April 2009
Is global warming difficult to reverse? - 11 March 2009
Dr Richard Harding speaks at the European Water Conference 2009 in Brussels - 3 April 2009
100 years of ammonia synthesis: how a single patent changed the world - 13 October 2008
Is nitrogen a major cause of climate change? - 10 July 2008