Every six years the British Hydrological Society hosts a major international symposium, bringing together hydrologists from the UK and overseas for a week-long conference to discuss relevant issues and challenges facing hydrology and related disciplines.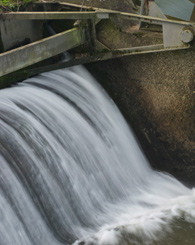 The 2010 International Symposium is being held this week in Newcastle in the north of England and Centre for Ecology & Hydrology scientists are well represented amongst the speaker list. In addition, CEH is supporting the conference organisers by convening a session on Water Resources Management.
During the symposium, Jamie Hannaford of CEH gave one of the event's three keynote talks, speaking on "The importance of hydrometric data in a changing global environment". Jamie leads the National River Flow Archive, part of the National Hydrological Monitoring Programme (NHMP), which CEH operates in conjunction with the British Geological Survey. NHMP scientists produce the UK Monthly Hydrological Summary which assesses rainfall, groundwater and reservoir levels. The latest monthly hydrological summary (for June), which recorded the notable rainfall deficiencies of recent months, was published on 15 July.
Eleven other CEH scientists are speaking at the meeting. Details of their talks are below:
Modelling water scarcity across Europe in terms of water quality and quality (Egon Dumont)
Setting environmental flow needs for Zhangxi River, China (Professor Mike Acreman)
Monthly hydrological indicators to assess impact of change on river ecosystems at the pan-European scale (Cedric Laize)
Investigating periphyton biofilm response to changing phosphorus concentrations in UK rivers using within-river flumes (Mike Bowes)
Hydrological Data Management Systems within a National River Flow Archive (Matt Fry)
Developing Best Practice for Infilling Daily River Flow Data (Catherine Harvey)
Evaporation Measurements at Kilometre Scales Determined Using Two-wavelength Scintillometry (Jon Evans)
Regionalisation of the impact of climate change on flood flows using a scenario-neutral approach: application in Great Britain (Christel Prudhomme)
Insights into historical river flow variability from undisturbed catchments and long hydrometric records in the UK (Catherine Harvey)
Examining the spatio-temporal evolution and characteristics of large-scale European droughts (Simon Parry)
Extreme rainfall in Cumbria, November 2009 - an assessment of storm rarity (Lisa Stewart)
A joint probability approach to flood frequency estimation using Monte Carlo simulation (Cecilia Svensson)
The overall theme of the symposium is the "Role of Hydrology in Managing Consequences of a Changing Global Environment". Selected papers will form a Special Issue of the British Hydrological Society/ Nordic Association for Hydrology official journal - Hydrology Research. CEH has also contributed a stand to the technical exhibition area at the symposium.
Additional information
UK registers second lowest Jan-June rainfall in a series from 1914 - 15 July 2010
June 2010 Monthly Hydrological Summary for the UK - (PDF)
National Hydrological Monitoring Programme
Media enquiries should be directed to the CEH Press Office.