Centre for Ecology & Hydrology science featured on this weeks Connect programme, broadcast on BBC Radio 4 on Wednesday 19th Sept at 9:00 pm.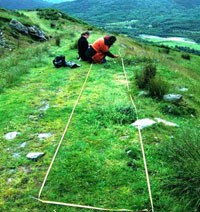 In "The Modern Canaries", presenter Quentin Cooper investigated how researchers are using technology to give them greater insights into the health of our environment. Research by Drs Lisa Norton, Lindsay Maskell and Paul Chamberlain all based at CEH's site in Lancaster was highlighted during the programme. All three scientists are contributing to the current UK Countryside Survey.
If you missed the programme it is still available via the listen again feature on the BBC website.
Links
The UK Countryside Survey (Previous news story -May 2007)