Dr Mike Billett and Dr Peter Levy from the Centre for Ecology & Hydrology gave evidence today (3 November 2010) to the Commission of Inquiry on Peatlands. The Commission, organised by the IUCN UK Peatland Programme, is gathering evidence to demonstrate just how important our peatlands are for storing carbon, maintaining clean drinking water supplies, supporting biodiversity and preserving a rich historical archive.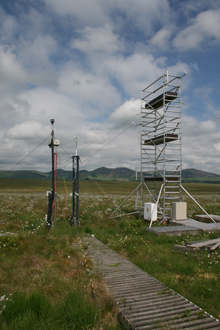 The inquiry has already received evidence that peat soils are being washed down networks of old drainage ditches releasing millions of tonnes of carbon and destroying important wildlife habitats. Further evidence on how to help tackle this problem and restore our damaged peatlands will be taken from expert witnesses, including CEH scientists, at today's Open Inquiry event in Edinburgh.
CEH measures carbon and greenhouse gas fluxes at several peatland sites in the UK. The most comprehensive and longest term measurements are from Auchencorth Moss, an ombrotrophic bog in southern Scotland. Measurements at the CEH Carbon Catchments, which in addition to Auchencorth Moss include peatland sites at Forsinard (Northern Scotland), Moor House (Northern England) and Conwy (North Wales), aim to fully account for all the different flux pathways in and out of the peatland. The objective is to produce a complete carbon and greenhouse gas budget each year, by combining tower, chamber and aquatic flux measurements.
Dr Mike Billett from the Centre for Ecology & Hydrology said, "Our long term investigations at Auchencorth Moss, a peat bog in Midlothian, demonstrate that these areas remove significant amounts of carbon from the atmosphere. Rewetting previously drained bogs can help meet climate change targets and by investing in science to improve our understanding of peatland processes there could be considerable cost savings."
Clifton Bain, Director of the IUCN UK Peatland Programme said, "Our Inquiry highlights the costs to society from allowing peatlands to deteriorate. Peatlands have been damaged by drainage, fires and grazing, with large areas eroding into rivers and reservoirs. This then costs water companies millions of pounds in extra treatment. We are now focusing our Inquiry on repairing this damage with the help of land managers and other experts who have been successful in peatland restoration."
The Open Inquiry event is being held on Wednesday 3 November at Thomson's Land, University of Edinburgh where the specialist panel will take evidence from expert witnesses and members of the public. Details are available on the IUCN UK Peatland Programme's website.
Related CEH Links
Additional information
Dr Mike Billett and Clifton Bain were interviewed about the inquiry on Good Morning Scotland (BBC Radio Scotland) at 0840 on 3 November 2010.
The IUCN (International Union for the Conservation of Nature) UK Peatland Programme exists to promote peatland restoration in the UK and advocates the multiple benefits of peatlands through partnerships, strong science, sound policy and effective practice. The Programme is funded by the Peter De Haan Charitable Trust.
A press release announcing the evidence session was distributed by Scottish Wildlife Trust on behalf of IUCN.