Just under a year ago prolonged heavy rainfall brought extensive flooding to many parts of the western UK and Ireland, with the worst flooding concentrated in west Cumbria. The towns of Cockermouth and Workington experienced particularly severe flooding which inundated large numbers of properties and caused transport chaos. A police officer died in Workington after a road bridge collapsed.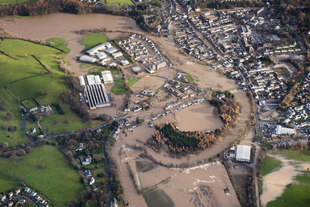 A total of 316.4mm of rainfall was recorded at the Seathwaite Farm raingauge in Borrowdale over a 24-hour period, a new record for the UK, and new peak flow records were established at 17 river flow monitoring sites in Cumbria.
CEH scientists have been working to assess the rarity of the November 2009 events using the latest statistical techniques. The team, led by Jamie Hannaford, head of CEH's National River Flow Archive*, has released a short briefing note summarising some of the key findings in relation to the rarity of river flow and rainfall records.
Work on assessing the 2009 floods is ongoing. Two journal papers are being prepared for submission early in 2011.
*The Centre for Ecology & Hydrology jointly operates the National Hydrological Monitoring Programme in conjunction with the British Geological Survey. NHMP scientists produce the UK Monthly Hydrological Summary which assesses rainfall, river flows, groundwater and reservoir levels. They also operate the National River Flow archive. The NHMP also has a remit to analyse major flood and drought events in the UK and analyse long term trends in UK hydrological data.
Further information
Briefing Note: An assessment of the rarity of the November 2009 Floods (PDF - 0.75mb)
Understanding Floods - CEH Information Leaflet (PDF - 0.5mb)
Media enquiries should be directed to the CEH Press Office.
CEH scientists can provide explanation and analysis of historic flooding patterns, possible future scenarios under climate change and scientific understanding of the current flooding situation. We are not able to comment on immediate operational issues.
Historical information
CEH news story: UK flooding situation - 20 November 2009 (updated 23 November 2009).