A major new study involving CEH researchers will explore the impact of the changes that humans are making to the ecosystems of tropical forests.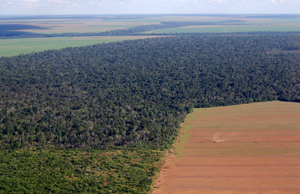 Despite widespread logging, deforestation and agricultural development, the effects of these land use changes are poorly understood. Now the ramifications of these activities are to be examined by an international team of scientists which has been awarded a £4.6 million grant by the Natural Environment Research Council. The consortium is led by the University of Aberdeen.
Researchers from Lancaster University and the Centre for Ecology & Hydrology are part of the consortium studying tropical forests in South east Asia, where forest clearing and land conversion are leading to habitat loss and species extinctions at a rate unprecedented in Earth's history.
The Lancaster and CEH research team, led by Professor Nick Ostle of Lancaster University with Dr Niall McNamara and Dr Rob Griffiths of CEH, will be examining how the loss of forest affects plant and soil microbial diversity and ecology.
The results of the four-year study should be of interest to policymakers, resource managers, climate change researchers, the oil palm industry, the carbon trading sector, tropical scientists and the conservation sector globally.
Professor Nick Ostle, who recently joined Lancaster Environment Centre from CEH, said: "The Tropics are under growing pressure to provide food and energy for growing populations. This study will enable us to improve our understanding of the relationship between land-use change, biodiversity and ecosystem functioning in tropical forest ecosystems."
The Lancaster/CEH team will contribute fundamental biogeochemical and ecological science to fill knowledge gaps about plant-soil interactions. The results will be used to develop better and more sustainable, environmentally friendly land-use change and management options.
The Biodiversity And Land-use Impacts on Tropical Ecosystem Function (BALI) consortium also includes the Universities of Cambridge, Edinburgh, Liverpool, Oxford, York and the Natural History Museum in London, as well as a host of international partner organisations from Malaysia, Japan, Brazil and the USA.
Additional information
You can follow the latest developments in CEH research via Twitter and our RSS news feed.