Dr Brenda Howard MBE, a radioecologist at the Centre for Ecology & Hydrology, will be in Japan next week to address two events organised by the Japanese National Agriculture and Food Research Organization and the National Institute of Livestock and Grassland Science (NILGS). Her trip marks continued collaboration with scientists in Japan following the accident at the Fukushima nuclear power plant in March this year, which occurred after a devastating tsunami and earthquake.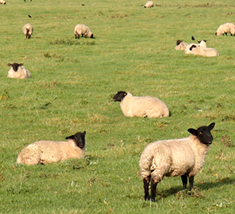 An international symposium in Tsukuba on Monday 5 September will look at what lessons have been learned from the Chernobyl accident in implementing agricultural countermeasures following extensive radionuclide contamination. The conference will be attended by different Japanese groups dealing with the aftermath of the accident, as well as Dr Howard from the UK and scientists from Belgium.
Japanese scientists will also address the conference on a variety of issues connected with contamination of livestock in Japan in the aftermath of the accident at Fukushima. Dr Howard will summarise lessons learned from the Chernobyl accident on radioactive caesium contamination of farm animals, including measures for reducing contamination in milk and meat.
Dr Howard will then address a workshop organised by NILGS in Nasushiobara on Wednesday 7 September entitled "Livestock farming in radiocaesium contaminated areas: Case study in Western Europe". Dr Howard will also present a lecture on "Why transfer parameters for caesium have a wide range in farm animals". Scientists from NILGS will give lectures on aspects of soil to plant transfer of radiocaesium in Japan and the impacts of the accident on livestock production.
Based at CEH's Lancaster site, Dr Howard is part of the organisation's Radioecology group, which has a well-established international reputation in radioecology research.
Additional information
Media enquiries about Dr Brenda Howard's trip to Japan should be directed to the CEH Press Office.
Related CEH links
European Radioecology Alliance: An initiative to integrate radioecological research in Europe - 24 June 2011
You can follow the latest developments in CEH research via Twitter and our RSS news feed.