CEH scientists have led the development of a global network of researchers working on geoengineering in lakes using an innovative e-conference event. The network is working together to produce consensus on the use of this contentious approach to solve lake problems at the global scale.
Dr Bryan Spears, CEH lead scientist on the project, explained more about the recent initiative, which has produced two new papers and will form the basis of a forthcoming journal special issue.
"The term geoengineering is being used here to describe the addition of any material such as a modified clay or metal compound to a lake to achieve a desired chemical or ecological response.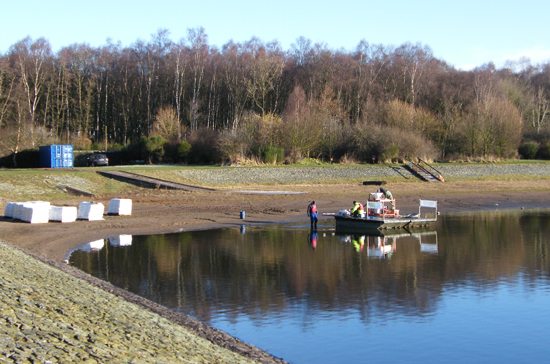 "Most commonly, this is used for phosphorus control in lakes in order to reduce the risk of potentially toxic algal blooms, but new materials are being developed to achieve a range of other effects. Although they represent potentially exciting new tools for water resource management, we know little about the unintended consequences of their use.
"Through our own work in the UK we know that this approach is both expensive and contentious and that there is a need for the research community to communicate consensus on its use effectively. We were conscious that many other groups were conducting similar research in response to similar policy drivers across the world and that we had much to learn from each other."
Exchanging international knowledge
To facilitate this exchange of knowledge, CEH mobilised a network of researchers in this field and brought them together, virtually, during an innovative electronic conference held in March 2014. The e-conference comprised 25 topics presented as video or written discussions, organised in four sessions. The videos and discussions were open to the public and attracted participation from water managers, researchers, students and policy makers, including the former Minister for the Environment of New South Wales, Australia.
Dr Ellie Mackay, lead author of one of the resulting conference papers, said, "Although the participants were generally (and thankfully for the forum moderators!) very well behaved, one clear outcome of the conference was that opinions can be strongly polarised on the use of geoengineering in lakes. Political, financial, and cultural drivers were clearly important in forming perceptions on the use of the approach as a sustainable management tool.
"There was a general view that the wider causes of the undesirable chemical and ecological symptoms being targeted should be better understood in future to improve cost-effectiveness. Through collaborative initiatives such as this we are confident that the science can be developed to underpin the future use of this approach."
The conference attracted almost 100 registrations from around the world, and resulted in approximately 10,000 topic views and more than 1200 views of the videos posted on YouTube and Tudou.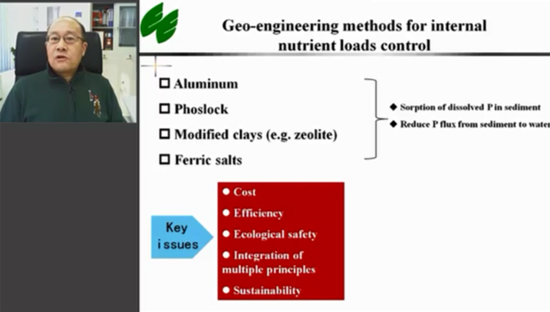 Dr Spears said, "I would like to thank all of the participants for their contribution to the e-conference, including CEH colleagues Ellie Mackay, Deena Mobbs and Paulette Burns for their efforts in helping to organise it, some of which occurred whilst most people in the UK were asleep!"
The forum presentations and discussions are available as a web archive which will serve as a resource for future interactions between researchers, policy makers, and practitioners.
Two commentary papers have been accepted for publication by journals in the field (details below) and a special issue of Water Research on many of the topics covered is planned for publication next year.
The work was conducted under the National Capability Ecosystem Resilience cross-cutting project.
Associated papers
Bryan M Spears, Stephen C Maberly, Gang Pan, Eleanor Mackay, Andy Bruere, Nicholas Corker, Grant Douglas, Sara Egemose, David Hamilton, Tristan Hatton-Ellis, Brian Huser, Wei Li, Sebastian Meis, Brian Moss, Miquel Lürling, Geoff Phillips, Said Yasseri, Kasper Reitzel. Geoengineering in lakes: a crisis of confidence? Environmental Science & Technology, Accepted. doi: 10.1021/es5036267
Eleanor Mackay, Stephen C Maberly, Gang Pan; Kasper Reitzel, Andy Bruere, Nicholas Corker, Grant Douglas, Sara Egemose, David Hamilton, Tristan Hatton-Ellis, Brian Huser, Wei Li, Sebastian Meis, Brian Moss, Miquel Lürling, Geoff Phillips, Said Yasseri, Bryan M Spears. Geoengineering in lakes: welcome attraction or fatal distraction? Inland Waters, Accepted. Published online [PDF].
Related CEH links
Geoengineering in lakes: a call for consensus - conference introduction and overview
Conference forum: videos and discussion
Use #elakes14 for tweets about the conference
UK Lake Restoration research at CEH
You can follow the latest developments in CEH research via Twitter and our RSS news feed.